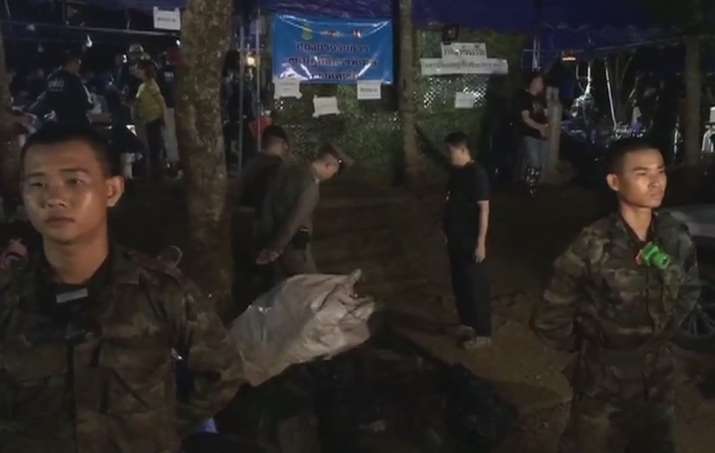 The 12 boys and soccer coach stuck in a flood cave in Thailand's Chiang Rai province for 10 days have been found late Monday night during a desperate search that drew international help and captivated the nation. Video released early Tuesday by the Thai navy showed the boys in their soccer uniforms sitting on a dry area inside the cave above the water as a spotlight, apparently from a rescuer, illuminated their faces.
The medical officers who checked the boys said that they were all in a stable condition. 
Chiang Rai provincial Gov. Narongsak Osatanakorn said most of the boys were found in a stable medical condition. Maybe some of the boys have injuries or light injuries, but no one needed critical care, he added. 
Raw video shows rescuers discovering all 12 boys and their soccer coach alive deep inside a partially flooded cave in northern Thailand late Monday, more than a week after they disappeared. 
Family members of the missing hugged each other and cheered as they heard they had been found. 
In the 5-minute navy video, the boys are quiet as they sit on their haunches, legs bent in front of them. "You are very strong," one of the rescuers says in English. Someone asks what day it is, and the rescuer responds, "Monday. Monday. You have been here — 10 days."
One boy, noticing the camera and hearing unfamiliar words, says in Thai, "Oh, they want to take a picture; tell him we're hungry. I haven't had anything to eat."
Then the boy breaks into simple English, saying, "Eat, eat, eat," to which another voice responds in Thai that he already told that to the rescuer.
Rescue divers had spent much of Monday making preparations for a final push to locate the lost soccer players, aged 11 to 16, and their 25-year-old coach. Flooding trapped them after they entered the Tham Luang Nang Non cave in Chiang Rai on June 23.
Divers found the group about 300-400 meters (yards) past a section of the cave on higher ground that was thought to be where they might have taken shelter.
Prime Minister Prayuth Chan-ocha thanked the international experts and rescuers who helped locate the missing for their "tremendous efforts."
"The Royal Thai Government and the Thai people are grateful for this support and cooperation, and we all wish the team a safe and speedy recovery," Prayuth's office said in a statement.
The rescuers had been stymied repeatedly by rising water that forced divers to withdraw for safety reasons. When water levels fell Sunday, the divers went forward with a more methodical approach, deploying a rope line and extra oxygen supplies along the way.
Experts in cave rescues from around the world had gathered at the site. An official Australian group has followed a US military team, British cave experts, Chinese lifesaving responders and several other volunteer groups from various countries.
(With inputs from AP)