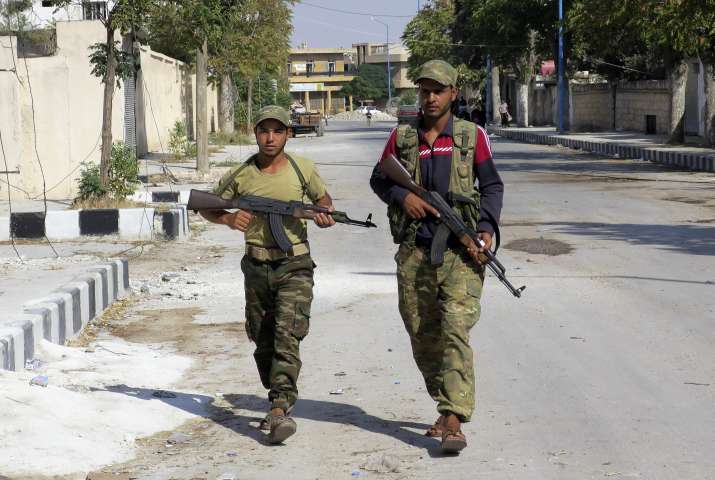 The Syrian military announced on Monday the end of the Russian-US brokered truce in Syria, without talking about possible extension, according to the state news agency SANA.
The military said that "armed terrorist groups" repeatedly violated the cease-fire which came into effect last week.
The Syrian army said the seven-day truce that was brokered by the United States and Russia ended on Monday, as previously declared, Xinhua news agency reported.
The army didn't speak of any possible extension of the week-long truce, but accused the rebels of committing over 300 violations to the ceasefire.
"The terrorists have taken advantage of the ceasefire to amass themselves and continue to attack residential areas and military positions, mainly in the provinces of Hama, Qunaitera, and Aleppo," the military statement said.
The statement said the military forces have practised high self-restraint, and responded in a few cases when it had to do so to silence the fire from the rebels.
It renewed old pledges that the army will continue to fight terrorism until restoring peace and stability to Syria.
The statement said the rebels wasted a "real chance" to stop the bloodshed.
Russia's military reiterated Syrian army and said the cease-fire was "meaningless" after accusing the United States of lacking power over the moderate Syrian opposition forces it supports.
Speaking in Moscow, Lieutenant General Sergei Rudskoi of the Russian military's General Staff said that events of the past week meant it was "meaningless for the Syrian government forces to unilaterally observe the ceasefire."
Activists and rebel groups also accuse the government of violating the cease-fire.
Meanwhile the UN said the Syrian government has obstructed the delivery of aid to besieged areas like Aleppo, a key component of the deal.
Last Monday, a Russian-US ceasefire was implemented in Syria, bringing relative calm to the most troubled areas, including Aleppo.
Still, both warring parties traded accusations of breaching the ceasefire, which was deemed as a good chance to bring the bloodletting in Syria to a close.