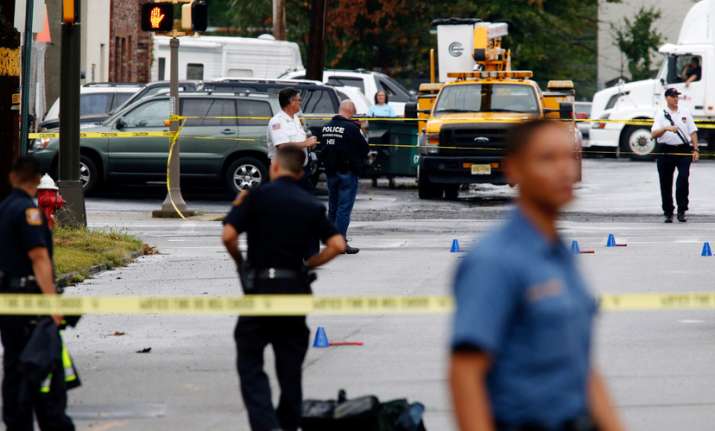 The main suspect in the bombings in New York and New Jersey is now under custody after a shootout with the police, sources said today.
Hailing from Afghanistan, Ahmad Khan Rahami, the man wanted for questioning in connection with bombings in New York and Seaside Park, New Jersey, is also believed to be connected to the pipe bombs found in a backpack on Sunday night in Elizabeth, New Jersey, CNN quoted sources as saying.
The New York police announced earlier they are looking for Rahami for questioning in connection with the Saturday bombing in Manhattan's Chelsea neighbourhood, which injured 29 people.
Bombings in New York and New Jersey over the weekend as well as the discovery of several unexploded devices have led authorities to believe there may be a terror cell at work in those two states, law enforcement officials told CNN today.
The New York City Police Department earlier on Monday released a photograph of Ahmad Khan Rahami, a 28-year-old New Jersey resident, as the suspect in the Manhattan explosion incident.
Rahami was described as a naturalised US citizen who was born in Afghanistan on January 23, 1988, Xinhua news agency reported.
"I want to be very clear that this individual could be armed and dangerous," said Bill de Blasio, Mayor of New York city.
Rahami's last known address was in Elizabeth in the state of New Jersey.
Elsewhere, on Monday, a backpack found near a New Jersey railway station exploded even as a bomb squad was attempting to defuse it, while authorities examined another suspicious package containing up to five devices, media reported.
The second package was found in a wastebasket outside a pub and located about 500 feet from the train trestle in Elizabeth city, Mayor Chris Bollwage told CNN.
Earlier on Saturday, there was an explosion at Seaside Park, New Jersey, which was timed to disrupt a Marine Corps' charity run.
New York Governor Andrew Cuomo said the bombs have similarities, suggesting "there might have been a common linkage".
Cuomo said the investigation is ongoing, and "I wouldn't be surprised if it zeroes in on a particular individual, today even", and that he "wouldn't be surprised if we found a foreign connection to the act".
A mystery caller telephoned police hours after the bombs were found in Manhattan to warn that there would be more attacks, a local newspaper has reported.
The blast is understood to have originated from a device placed in a pressure cooker outside the Associated Blind Housing facility at 135 West 23rd Street. A second device was found four blocks away on West 27th Street.
New York's Mayor Bill de Blasio said the blast in Chelsea was an "intentional act" but he insisted that there was no credible terrorist threat to the city and there was no link with the New Jersey explosion.
The Joint Terrorism Task Force was called in to investigate the Chelsea blasts well as the New Jersey incident.
Nine persons were also injured on Saturday night in a stabbing attack at a mall in the US state of Minnesota.
(With IANS inputs)