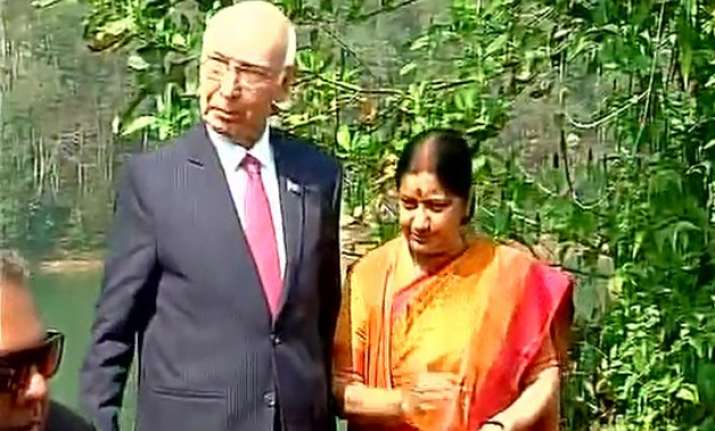 Pokhara (Nepal): India is set to raise the issue of the Pathankot terror attack with Pakistan and seek information about action taken by it as External Affairs Minister Sushma Swaraj meets with her Pakistani counterpart Sartaj Aziz in this resort town of Nepal today.
The two earlier this morning met over breakfast at the Fishtail hotel on Fewa river ahead of the 37th SAARC Council of Ministers Meeting. Swaraj and Aziz, who were again seated together like at the dinner last night, even went to the side and had nearly five minutes of a one-on-one conversation after the breakfast.
Today's formal meeting was sought by the Pakistani side to extend an invitation to Prime Minister Narendra Modi to attend the SAARC Summit which is being hosted by Pakistan in November.
Aziz had yesterday said he is ready to talk about all issues that will be raised by Swaraj. On being asked about other discussions like the recent Pathankot terror in India's airbase, Aziz, however, evaded the question saying, "Pakistan 's special investigation team will soon be visiting India to probe the attack."
Highly-placed government sources said that India will seek to gain "knowledge" about the action taken by Pakistan against the perpetrators of the deadly attack on the IAF base in Pathankot.
Asked what more steps India expects than the ones taken by Pakistan, including taking Jaish-e-Mohammed (JeM) chief Masood Azhar into "protective custody", the officials said they have not been told anything directly and all information is coming from the media and other channels.
Today's meeting could eventually pave the way for a meeting between Modi and his Pakistani counterpart Nawaz Sharif in the US later this month.
Pakistan is keen that the formal talks between the two sides begin at the earliest. The Pakistani side is looking at fixing dates for the Foreign Secretary-level talks between the two sides, which were put off after the Pathankot attack.
SAARC Summit likely to be held every alternate November
The SAARC Standing Committee, comprising foreign secretaries of eight member nations, has decided to recommend that its SAARC Council of Ministers meet every alternate November. The Council of Ministers is holding its 37th session in Pokhara on Thursday.
After the meeting, Nepal's Foreign Secretary, Shankar Das Bairagi, who had chaired the meeting, said the recommendation would be made in a bid to ensure that the SAARC Summit is held every two years.
He added that as the United Nations General Assembly opens on the third Tuesday of every September, the decision would help the South Asian regional body become more effective in pursuing its agenda of regional cooperation.
The SAARC has already completed 31 years since its establishment but has hosted only 18 summits so far. The summit was to be held every year in the beginning. The 18th Summit was held in Kathmandu in November 2014.