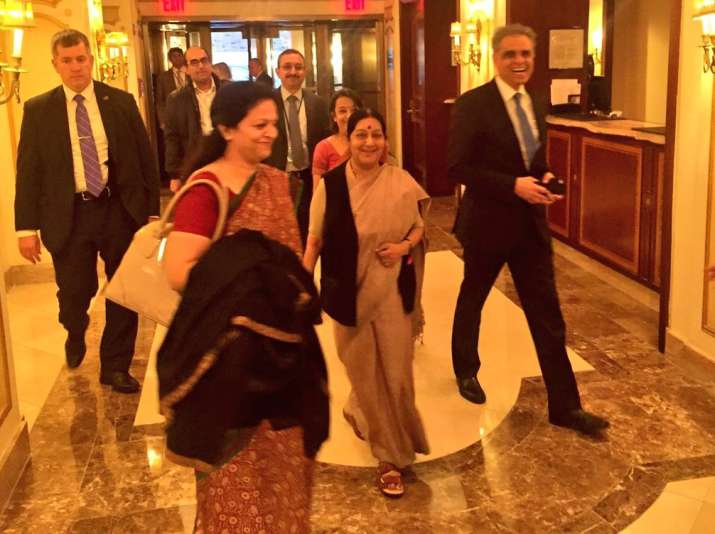 External Affairs Minister Sushma Swaraj arrived here to address the 71st session of the UN General Assembly, with all eyes and ears set on her speech tomorrow in which she is expected to deliver a stinging response to Pakistan Prime Minister Nawaz Sharif's "tirade" on Kashmir. 
Swaraj is expected to give a stinging response to Sharif's UN General Assembly (UNGA) speech, in which he had focused elaborately on Kashmir. 
India's strong Right of Reply to his speech called Pakistan home to the "Ivy League of Terrorism" and a "terrorist state" that commits "war crimes" by using terrorism as an instrument of state policy. 
Outlining India's focus for the United Nations General Assembly (UNGA) session, India's envoy to the UN Syed Akbaruddin had said that terrorism is the "primary concern" for India as well as for nations across the world. 
He listed reform of the UN Security Council, sustainable development, climate change and peacekeeping as other priorities for India in the current UNGA session. 
Swarup told reporters here Friday that "the whole world and the entire nation" is waiting to hear from Swaraj who will deliver India's "vision document" for the 71st UNGA. 
Leading India's delegation to the 71st UNGA. EAM @SushmaSwaraj arrives in New York pic.twitter.com/hFJp0nImDR

— Raveesh Kumar (@MEAIndia) September 24, 2016
"We are all looking forward to that," he had said. He, however had not elaborated on elements of Swaraj's address but said "the whole world and the entire country is waiting to hear what the External Affairs Minister has to say but I think the broad themes that Akbaruddin has outlined are definitely going to be a part of our presentation at this most important forum in the international community". 
Swarup said one can also expect "a continued focus from India on the theme of terrorism which is today undoubtedly the single biggest challenge to international peace and security". 
Exercising the Right of Reply to Sharif's "long tirade" about the situation in Kashmir, First Secretary in the Permanent Mission of India to the UN Eenam Gambhir had said, "the worst violation of human rights is terrorism". 
"When practiced as an instrument of state policy it is a war crime. What my country and our other neighbours are facing today is Pakistan's long-standing policy of sponsoring terrorism, the consequences of which have spread well beyond our region," she said. 
She had said India sees in Pakistan "a terrorist state" which channelises billions of dollars, much of it diverted from international aid, to training, financing and supporting terror groups as militant proxies against it neighbours. 
UNGA comes in the backdrop of rising tension between New Delhi and Islamabad after Pakistan-based terrorists attacked Uri army base in Jammu and Kashmir, which led to the death of 18 soldiers.