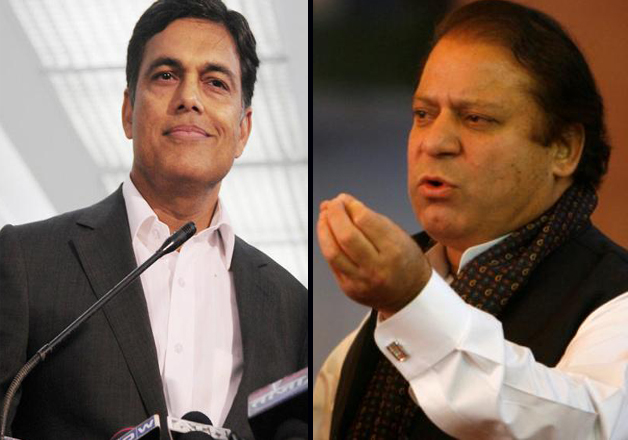 Indian steel magnate Sajjan Jindal secretly met Pakistan Prime Minister Nawaz Sharif during an unscheduled visit to Islamabad, triggering speculation in Pakistani media that bilateral talks between the two neighbouring sides may revive soon.
The meeting between Sharif and Jindal took place on Wednesday at the Premier's private residence in the country's hill station Murree, about 45 kms from Islamabad.
After opposition parties created an uproar over the "secret" meeting, Sharif's daughter Maryam Nawaz Sharif said that there was nothing secret about the meeting. 
"Mr. Jindal is an old friend of the Prime Minister. Nothing 'secret' about the meeting & should not be blown out of proportion. Thank you," Maryam tweeted. 
The family members of Sharif received Jindal at the Islamabad airport after he came from Afghanistan. Jindal was later escorted to Murree in an official protocol where he had an hour-long meeting with the prime minister.
Meanwhile, Pakistani media reported that with the meeting, Jindal has violated the terms of his Pakistani visa. 
Imran Khan's Pakistan Tahreek-i-Insaf (PTI) has alleged that Jindal had either come with a special message from Prime Minister Narendra Modi, or had come to negotiate the release of former Indian naval officer Kulbhushan Jadhav, who has been sentenced to death by a Pakistani military court. 
A resolution on Friday was submitted in Pakistan's Punjab Assembly against the 'secret' meeting of Sharif and Jindal. 
Punjab Assembly Opposition leader Mian Mahmoodur Rashid submitted the resolution in the assembly, saying Sharif held a 'secret' meeting with a three-member Indian delegation led by businessman Jindal in Murree. 
According to a Times of India report, Sajjan Jindal had reportedly played a key role in arranging the surprise meeting between Nawaz Sharif and Narendra in Raiwind on December 25, 2016. Sources further claimed that Jindal was a guest at the wedding ceremony of Sharif's granddaughter.