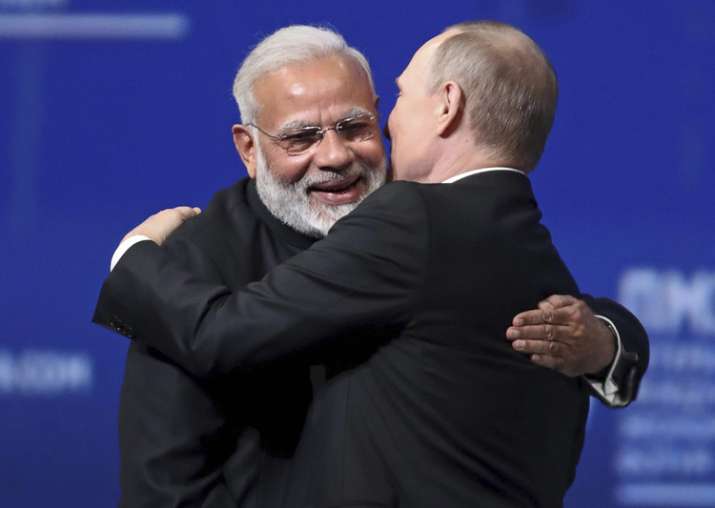 Pitching India as a land of opportunities in several sectors, Prime Minister Narendra Modi today called upon Russian investors to invest in the country.
"In India, sky is the limit. There are opportunities in several sectors," the PM said as he invited Russian investments in infrastructure, defence and manufacturing sectors. 
Addressing the plenary session of the St Petersburg International Economic Forum (SPIEF) in Russia a short while ago, Modi said that 'India is a fast growing economy and this is a sentiment leading global agencies are reflecting'. 
Inviting companies to invest more in India, he said that 'political will, political stability and clear vision has set the tone for transformative reforms, making New Delhi one of the most sought-after markets in the world'.
Modi is the first Prime Minister of India to be invited to attend the SPIEF, an annual event held in the Russian city of St Pertersburg which is also Russian President Vladimir Putin's home town. 
Sharing stage with the Russian President, Modi said that India-Russia relations have continuously strengthened over 70 years irrespective of changes in the world.
 "India-Russia relations have continuously strengthened over 70 years irrespective of changes in the world," he added. 
The Prime Minister also said that 'India is growing at a rapid pace and over the last three years the impetus to financial inclusion has been tremendous'.
PM @narendramodi at #SPIEF2017: India will be a responsible nation with regard to climate change pic.twitter.com/6bFedPDz81

— Raveesh Kumar (@MEAIndia) June 2, 2017
He said 'our constant aim is to bridge the digital divide', adding that India is today among the top FDI destinations in the world.
Held from June 1-3, the SPIEF is attended by thousands of business leaders from across the globe. This is the first time India has been invited to the forum as a guest nation.
Modi said that his government's journey towards developing India is built on investments in infrastructure, agriculture, manufacturing and services.
"Fifty cities need metros, 500 cities need solid waste management and drinking water. Besides, India has the world's second largest railway network. It needs to be expanded, upgraded technologically to make it safer and reliable. The clean India movement has embarked on a program to clean the 2,500 kilometer long Ganga," Modi said.
All this provides immense opportunities for investment, he added.
In agriculture, he said his emphasis is on "seed to market," and increasing yield through technological intervention, organic farming and value addition through food processing.
"The market is open even for defence manufacturing, tourism, hospitality and medical devices. I invite you all. A nation of 1.2 billion people invites the world. The world's oldest civilization invites you all," he said.