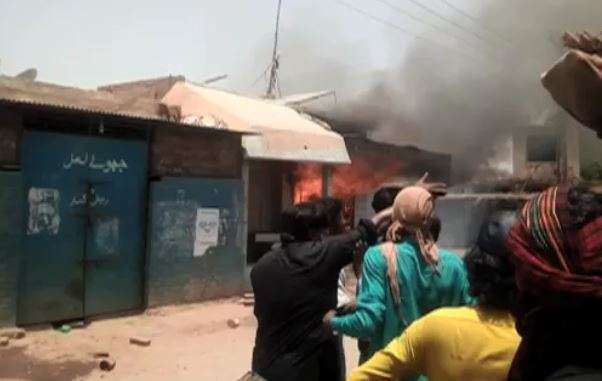 Violence erupted in Phulhadiyon area of Sindh on Monday over an issue relating to a Hindu man. Ramesh Kumar, a Hindu doctor, was accused of having committed blasphemy. 
According to Pakistani media, Maulvi Ishaq Nohri, the pesh imam of a mosque, filed a complaint against Kumar alleging that the veterinary doctor tore pages of Quran and wrapped medicine in them. 
The authorities booked Kumar under Sections 295(a) and 295(b) of the Pakistan penal code which means "deliberate and malicious acts intended to outrage religious feelings", and "defiling the holy Quran". The punishment ranges from a three-month jail term and a fine up to life in prison. Even as the Hindu doctor was arrested, some people indulged in widepsread violence and damaged shops owned by Hindus. 
Several social media users urged the Pakistani government to intervene and ensure the safety of Hindu Sindhis. 
"I urge the government to intervene and ensure the safety of Hindu Sindhis who have lived peacefully here for centuries. Also, action must be taken against those who initiated these riots and incited violence. There is a proper lawful procedure for such cases. How can we think of killing someone, especially when it's Youm-e-Ali," a Facebook user Syma Jafri said.
Another user said that tolerance amongst the people of Pakistan was very low and that persecution of Hindu minorities continued in 'Naya Pakistan'.