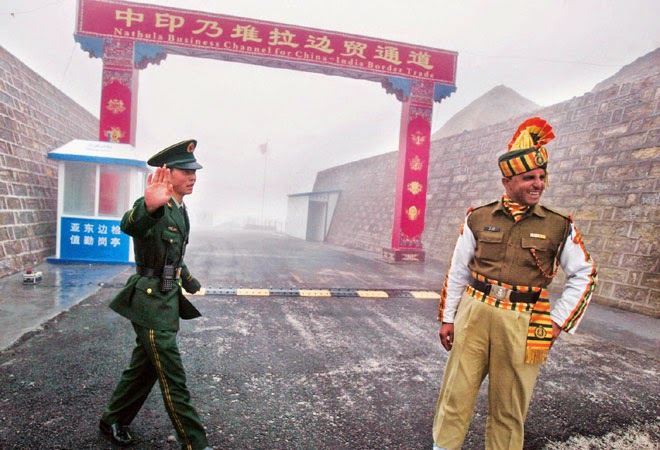 China on Thursday reiterated that it won't talk to India until New Delhi withdraws troops from Doklam where both armies have been locked in a stand-off for more than a month.
China has repeatedly said the withdrawal of troops from Doklam was the precondition for any "meaningful dialogue" with India over the festering border row in the Sikkim section of the border.
"Our diplomatic channel is unimpeded and the withdrawal of the Indian border troops is the precondition for any meaningful dialogue and the communication between the two sides," Foreign Ministry spokesperson Lu Kang said at a press conference.
"The incident that happened in Sikkim section is quite clear that the Indian border troops illegally trespassed into Chinese territory," Lu added.
Meanwhile, External Affairs Minister Sushma Swaraj today said that as China tries to alter the status quo in the Doklam tri-junction area, India is well equipped to defend itself and doesn't feel threatened in the least. 
"Over the years, China has been trying to get closer and closer to where the tri-junction point ends. It has done things like repair roads, re-tar them and things like that," Swaraj said in reply to a question in the Rajya Sabha.
Talking about the military standoff with China which began more than a month ago, Swaraj said that "India has not said anything unreasonable" and that "all countries are in India's support"
The borders of India, Bhutan and China meet at Doklam, which holds strategic importance to all three.
China calls Doklam its own but India and Bhutan call it Bhutanese territory.
India, a close ally of Bhutan, stopped the Chinese Army from building a road in Doklam in June, leading to the face-off between New Delhi and Beijing.
Now both armies are eyeball-to-eyeball at Doklam. India says it wants to resolve the issue diplomatically.
(With IANS inputs)