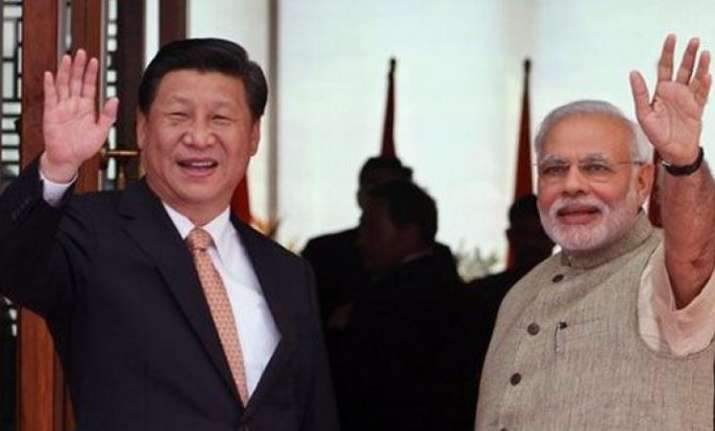 In what is being seen as a major diplomatic breakthrough for India in the over two-month long military face-off between India and China at the Doklam region, India's ministry of External Affairs today said that the two neighbouring countries had agreed to "expeditious disengagement" of border personnel at Dokalam. Nitably, the development comes a week before the BRICS summit in China that Prime Minister Narendra Modi is expected to attend.
MEA said the two countries had maintained "diplomatic communication" and were able to express their views, concerns and interests.  
"In recent weeks, India and China maintained diplomatic communication in respect of incident at Doklam. During these communications, we were able to express our views and convey our concerns and interests," the Ministry of External Affairs said in a statement. 
"On this basis, expeditious disengagement of border personnel at the face-off site at Doklam has been agreed to and is on-going," the statement added. 
MEA Press Statement on Doklam Disengagement Understanding pic.twitter.com/fVo4N0eaf8

— Raveesh Kumar (@MEAIndia) August 28, 2017
A PTI report citing sources in the Indian Army said the process to withdraw troops -- India had deployed about 350 Army personnel in the area -- from Doklam near Sikkim was underway. 
Troops of the two countries have been locked in a standoff in Dokalam since June 16 after Indian troops stopped the Chinese army from building a road in the disputed area.
While the statement by New Delhi did not explicitly state whether Indian and Chinese troops had already withdrawn from the area, Beijing claimed that Indian troops have indeed pulled back. China, however, remained ambiguous about the status of its own troops.  
"Chinese troops on the ground have verified it (withdrawal of Indian troops). China continues to exercise sovereignty. China will make adjustments according to the situation," Chinese foreign ministry spokesperson Hua Chunying told reporters in Beijing.
Asked if the Chinese statement means that China has not made any concession, officials in New Delhi said expeditious disengagement implies withdrawal of both parties because a unilateral withdrawal by India would not have needed or required an agreement with China, PTI reported.   
India and China have been keeping diplomatic channels open ever since the border incursion by China on June 16, in what's called the tri-junction area at Doklam, which is in Bhutan. This has been despite the continued rhetoric from China, espcecially its state-backed media. 
Hua, the Chinese spokesperson, said Indian soldiers and equipment had been pulled back to the Indian side of the border. The Chinese side, she added, continues to patrol the Doklam area.
"The Chinese side continues to uphold sovereignty and territorial integrity according to the historical convention," she said. 
The move comes ahead of the BRICS Summit, which will be attended by leaders of five countries, including Prime Minister Narendra Modi, in China's Xiamen in from September 3-5. 
On August 1, China claimed in a 15-page 'fact-sheet' on the ongoing crisis that India's troops had come down from 400 in June to around 40 in July.
"Over 400 people at one point, have put up three tents and advanced over 180 metres into the Chinese territory. As of the end of July, there were still over 40 Indian border troops and one bulldozer illegally staying in the Chinese territory," the document released by the Chinese Foreign Affairs ministry read. 
The standoff began on June 16 when Indian troops went into the area that overlooks the 'Chicken's Neck', a region of strategic importance to India, when China began building a road there. The Chicken's Neck is a thin stretch that connects the rest of India to the north-eastern states.
The face-off began after Indian troops stopped Chinese military from building a road India believes would allow Beijing to cut its access to the northeastern states. 
The standoff saw 300 soldiers from each side, confronting each other on the remote Doklam plateau in the Eastern Himalayas. India ignored repeated baiting and aggressive rhetoric by China to insist it would seek diplomatic channels to resolve the tension.
China retorted that it had every right to build a road in a region that is part of its territory. Chinese media and spokespersons repeatedly warned of military escalation, a possible "countdown to war" and of a repeat of India's humiliating defeat by China in 1962.
While Beijing reiterated on the unilateral pulling out of India's soldiers, New Delhi maintained that both sides withdraw troops to engage in dialogue.
Also last week, China issued a travel advisory for its citizens in India or coming to India. It cautioned its citizens against infectious diseases and natural disasters. "There frequently occurred natural disasters, traffic accidents and infectious diseases in India (sic),"said the advisory.
Indian border guards, on August 15, foiled an attempt by the Chinese soldiers to enter Indian territory in Ladakh, resulting in stone pelting that caused minor injuries to troops on both the sides. 
External Affairs Minister Sushma Swaraj recently said both sides should first pull back their troops for any talks to take place, and favoured a peaceful resolution of the border standoff.