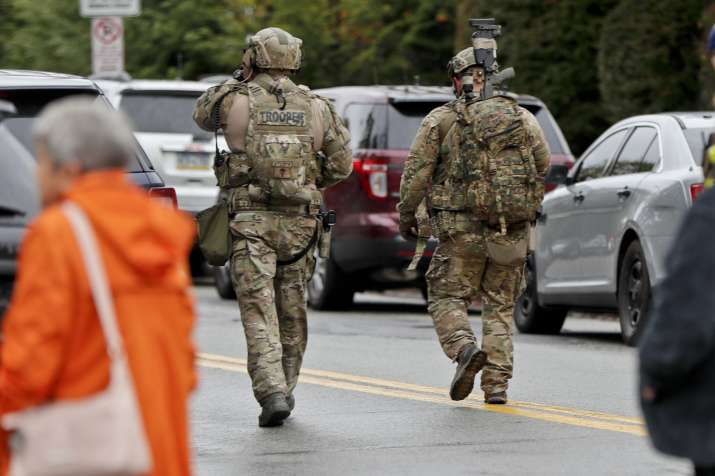 US prosecutors on Sunday slapped the gunman who killed 11 people in a synagogue in Pittsburgh with 29 counts of federal crimes of violence and firearms offenses. The charges against the shooter, identified as Robert Bowers include 11 counts of obstruction of exercise of religious beliefs resulting in death; and 11 counts of use of a firearm to commit murder during a crime of violence, the US Attorney's Office of the Western District of Pennsylvania said in a statement.
"The crimes of violence are based upon the federal civil rights laws prohibiting hate crimes," the statement said.
Meanwhile, US President Donald Trump ordered that American flags be flown at half-staff following a shooting at a Pittsburgh synagogue that left 11 people dead.
All flags at the White House, public grounds, military posts, naval stations and ships will be flown at half-staff through October 31 as a mark of "solemn respect" for the victims, Trump ordered.
US President on Saturday said that he will travel to the Pennsylvania city of Pittsburgh.
Trump, who is in Illinois for a campaign rally ahead of key November midterm elections -- did not provide details of his trip that comes in the wake of the fatal shooting, which he earlier dubbed an "evil Anti-Semitic attack" and an "assault on humanity." 
"All of America is in mourning over the mass murder of Jewish Americans," the Republican president tweeted. 
Earlier on Saturday, the gunman identified as Robert Bowers and who's believed  to have spewed anti-Semitic slurs and rhetoric on social media barged into a Pittsburgh synagogue on Saturday and opened fire, killing 11 people in one of the deadliest attacks on Jews in US history.
The 20-minute attack at Tree of Life Congregation in the Squirrel Hill neighborhood left six others wounded, including four police officers who dashed to the scene, authorities said. The suspect has been taken to police custody.
The mass shooting came amid a rash of high-profile attacks in an increasingly divided country, one day after a Florida man was arrested and charged with mailing a series of pipe bombs to prominent Democrats and little more than a week before the midterm elections.
The mass shooting raised immediate alarm in Jewish communities around the country. Authorities in New York City, Chicago and elsewhere increased security at Jewish centers.
Bowers, who had no apparent criminal record, expressed virulently anti-Semitic views on a social media site called Gab, according to an Associated Press review of an archived version of the posts made under his name. The cover photo for his account featured a neo-Nazi symbol, and his recent posts included a photo of a fiery oven like those used in Nazi concentration camps used to cremate Jews during World War II.
Other posts referenced false conspiracy theories suggesting the Holocaust — in which an estimated 6 million Jews perished — was a hoax. He wrote of a Jewish "infestation," using a slur for Jews.
Before the shooting, the poster believed to be Bowers also wrote that "HIAS likes to bring invaders in that kill our people. I can't sit by and watch my people get slaughtered. Screw your optics, I'm going in."
HIAS is a nonprofit group that helps refugees around the world find safety and freedom. The organization says it is guided by Jewish values and history.
Thousands of people, some holding candles, gathered for a vigil in the Squirrel Hill neighborhood on Saturday night in honor of the victims, whose names were not immediately released. A chant of "vote, vote, vote" broke out during the emotional gathering. Some attendees blamed the shooting on the nation's political climate, and said they took little solace in the planned visit by Trump.
Meanwhile, Israeli Prime Minister Benjamin Netanyahu said he was "heartbroken and appalled" by the attack.
"The entire people of Israel grieve with the families of the dead," Netanyahu said. "We stand together with the Jewish community of Pittsburgh. We stand together with the American people in the face of this horrendous anti-Semitic brutality. And we all pray for the speedy recovery of the wounded."
German Chancellor Angela Merkel denounced the deadly shooting rampage  as "blind anti-Semitic hatred".
"We all have to stand up against anti-Semitism, everywhere," she said, in a brief statement posted on Twitter by a German government spokesman.