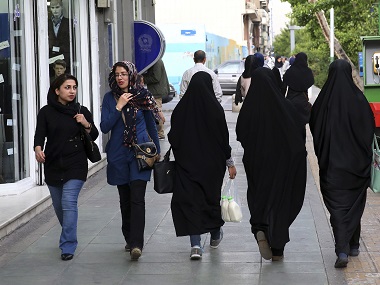 In yet another example of continuing discrimination against females in Iran, a group of women has been arrested for riding bicycles in the Islamic Republic.
According to a report in The Independent, these women were later forced to sign pledges of not repeating the violation in future.
The arrested women were reportedly planning to participate in a cycling event in the north-western city of Marivan.
However, the police barred them from riding bicycles saying that a new government directive had barred women from riding bicycles in the country.  
Women in Iran have been subjected to strict dress code in Iran and female cyclists run the risk of flouting modesty laws.
In May, posters displaying "bicycle riding for women is prohibited" had appeared in public walkways. Police had reportedly warned that women caught cycling would be prosecuted.
Since there is no defined penalty for cycling in Iran's legal code, police officers reportedly use dress laws and other alleged offences including being in the company of unrelated men to harass female cyclists.
"With each passing day the mullahs' regime is further infringing on the basic rights of women which they had fought hard to obtain," Farideh Karimi, an activist from the National Council of Resistance of Iran (NCRI) was quoted as saying by The Independent.