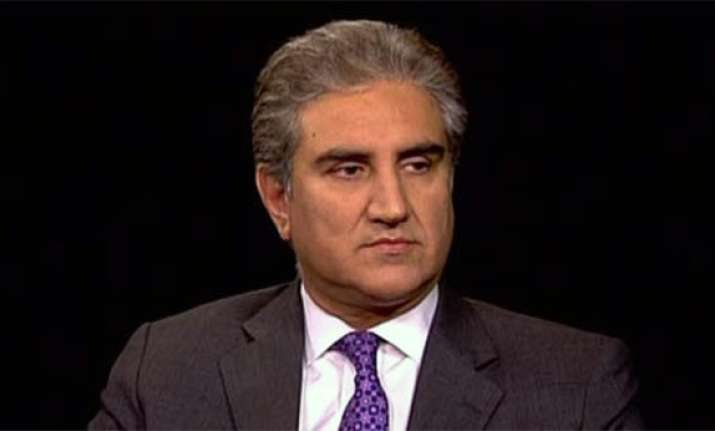 Pakistan Prime Minister Imran Khan on Saturday appointed Shah Mehmood Qureshi as the new foreign minister of the country.
Qureshi held the same portfolio from 2008-11 when Pakistan Peoples Party held the reins of power in Islamabad.
Qureshi was the foreign minister of Pakistan during 2008 Mumbai terror attacks. In fact, he was visiting India when the Mumbai terror attacks, that claimed 166 lives, took place in November 2008.
Imran Khan announced a 20-member Cabinet after he took oath as the 22nd Prime minister of Pakistan earlier in the day.
Pakistan Tehreek-i-Insaf (PTI) spokesman Fawad Chaudhry said that out of the 20 names announced, 15 will be ministers while five others will perform their duties as advisers to the premier.
The newly-announced Cabinet is expected to take oath on Monday at the President's House, he said.
According to the list shared by Chaudhry on Twitter, Qureshi has been appointed as foreign minister, Pervaiz Khattak as defence minister and Asad Umer as finance minister. 
Sheikh Rashid from Rawalpindi has been appointed as Railway minister.
Asad Umar is son of former Pakistani Lt Gen Mohammad Umer who was part of army during 1971 war with India. Khattak served as PTI chief minister of Khyber-Pakhtunkhwa province from 2013-18.
Three women including Shireen Mazari, Zubaida Jalal and Fehmida Mriza are also part of the cabinet.
The five advisors who have status of ministers include known faces like former banker Ishrat Hussain, businessman Abdul Razzak Dawood and Babar Awan.
Khan's party said it has nominated party's veteran lawmaker Dr Arif Alvi as its candidate for the President of Pakistan.
The presidential election will be held on September 4 - five days before the expiry of the five-year term of President Mamnoon Hussain.
Khan, 65, was today sworn in as Pakistan's new prime minister, nearly 22 years after the former cricket hero entered politics.
The chairman of PTI was administered the oath of office by President Mamnoon Hussain at a simple ceremony held at the Aiwan-e-Sadr (the President House) in Islamabad.
The PTI emerged as the single largest party with 116 seats in July 25 elections. Its number increased to 125 after nine independent members joined it and final tally reached 158 after it was allotted 28 out of 60 seats reserved for women and five out of 10 seats reserved for minorities.
Khan's government will be the third consecutive democratic government in Pakistan since 2008 when military ruler Gen Pervez Musharraf announced elections after serving as president from 2001 to 2008 following a bloodless coup in 1999.
The PPP formed the government in 2008, followed by the PML-N led by jailed former prime minister Nawaz Sharif in 2013.
Pakistan's powerful military has ruled the country through various coups for nearly half of the country's history since independence in 1947.