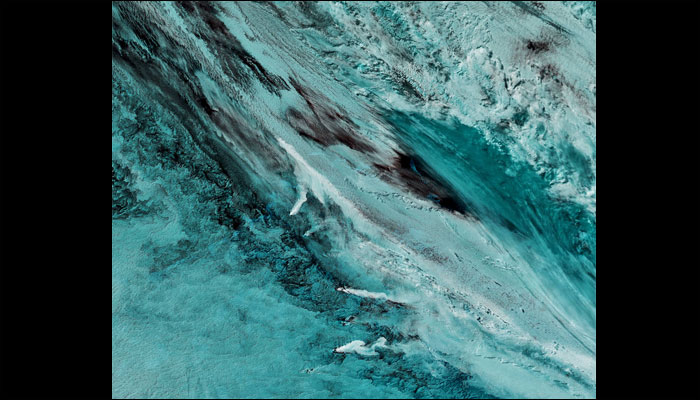 NASA's satellite Aqua recently spotted three active volcanoes simultaneously erupting and unleashing giant plumes of smoke as it passed over a remote archipelago in the South Atlantic Ocean.
According to NASA, on September 29, the Moderate Resolution Imaging Spectroradiometer on NASA's Aqua satellite captured a stunning image of volcanic activity in the South Sandwich Islands located about 1,700 miles (2,800 kilometres) southeast of Buenos Aires, Argentina.
AQUA is a multi-national NASA scientific research satellite present in the orbit around the Earth, which studies the precipitation, evaporation, and cycling of water.
NASA released the image taken by the Aqua satellite in which these volcano triplets are stratovolcanoes, a type of composite volcano made up of layers of lava, ash and stone.  
The reason why they are not much studied is their isolated locales and unwelcoming surroundings.
The image of the erupting volcanic plumes was taken by NASA's satellite in false-colour, since clouds and ice in the region make it difficult for satellites to see volcanic activity in natural-color imagery, NASA said.
According to NASA, volcanic eruptions in remote, uninhabited places like the South Atlantic would likely go unnoticed without satellites and seismic monitoring.
Such technological advances have made scientists and astronauts study more about volcanic activity all around the world, said the space agency.