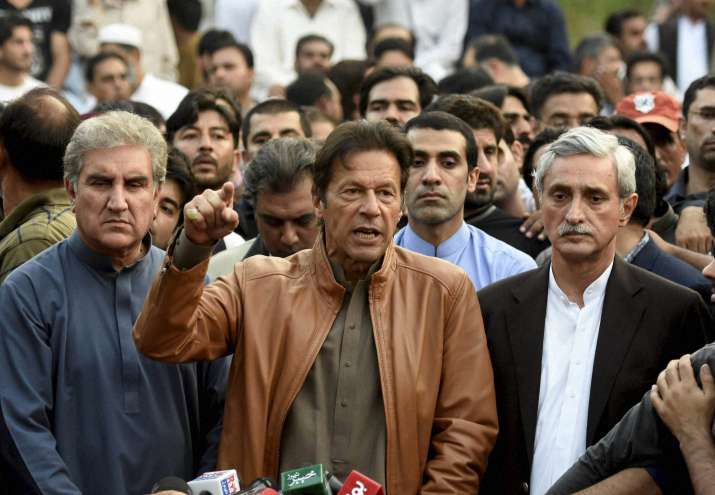 Pakistan Tehreek-i-Insaf (PTI) Chairman Imran Khan on Sunday said that former Information Minister Pervaiz Rasheed, who was sacked by Prime Minister Nawaz Sharif after details of a meeting on national security was leaked, has been made a scapegoat but the nation "demands much more".
Rasheed was asked to step down as the Pakistan government has initiated an inquiry to identify the person responsible for the leak of the information that civilian leadership had asked the military to "act against militants or face international isolation."
Country's leading newspaper Dawn had published the report based on the information and led to a travel ban on the reporter which was later revoked. 
The report of the high-profile security meeting has forced the government to initiate an inquiry to identify the person responsible for its leak.
"Pervaiz Rasheed was responsible for the Information Department and he is temporarily suspended from his post until investigations conclude," PM spokesperson Musadiq Malik said. 
Commenting on the sacking of Rasheed, Khan said, "The nation wants the sacrifice of a horse, not a mule."
"Rasheed could not speak without a signal from "his masters" to do so. He could not dare to anything on his own. He just obeyed instructions," the cricketer-turned-politician further said, Dawn reported. 
"People are not ready to accept the sacrifice of an associate," he said. "We want to know who was the one from the 'royal family' who directed this entire drama."
The PTI leader also reiterated his criticism of the government for its actions in the days leading up to his scheduled November 2 protest, and said it has "gone out of its way" to restrain the party from exercising its constitutional right of protest. 
He has urged PTI workers to move onto Islamabad on Nov 2 for the party's planned 'lockdown' of the capital, he said.