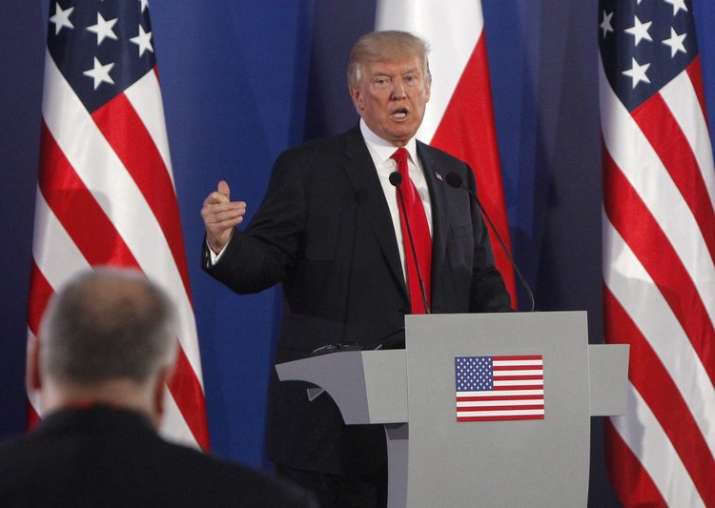 On the eve of his first meeting with Russian President Vladimir Putin, President Donald Trump questioned the veracity of American intelligence about foreign meddling in the US election, arguing that 'Moscow wasn't the only country that may have interfered'.
"I've said it very simply. I think it could very well have been Russia. I think it could well have been other countries. I won't be specific. But I think a lot of people interfere," Trump said during a visit to Warsaw, his second Opening his second overseas trip as President. "Nobody really knows for sure."
As US investigations into Russia's meddling move ahead, Trump is under intense scrutiny for how he handles his first face-to-face session with Putin. US intelligence officials say the unpredictable Russia leader ordered interference in the election that brought Trump to the White House. Trump and Putin plan to sit down on Friday in Hamburg, Germany, on the sidelines of the G20 Summit.
'Obama knew about hacking'
Trump also repeated his claims that former President Barack Obama knew that Russia was meddling in the election. "They say he choked. Well, I don't think he choked," Trump said. "I think he thought Hillary Clinton was going to win the election, and he said, 'Let's not do anything about it.'"
"A lot of people interfere. It's been happening for a long time," Trump added.
Trump said that the CIA had informed Obama about the hacking months before the election but added that "mistakes have been made." Though Trump has made similar statements before, it was an extraordinary public expression of doubt about US intelligence capabilities by a President while standing on foreign soil.
'Will confront N Korea very strongly'
Trump also warned North Korea that he's considering "some pretty severe things" in response to the isolated nation's unprecedented launch of a missile capable of reaching the US. Though he declined to offer specifics on the US response, he called on all nations to confront the North's "very, very bad behaviour."
"It's a shame that they're behaving this way. But they are behaving in a very, very dangerous manner, and something will have to be done about it," Trump said in his first public comments since North Korea tested an intercontinental ballistic missile for the first time this week.
"The US would confront it very strongly," Trump said.
The US has been considering a range of possible sanctions, economic measures and other steps in response to Pyongyang. The test of an ICBM marked a major technological advancement for North Korea that US officials have described as intensifying the threat against the US by bringing the North closer to being able to mount a nuclear warhead atop a missile that could hit American soil.
Trump's comments came as he opened his second visit to Europe, a trip that will also take him to Germany for the Group of 20 Summit, where he'll meet with Putin. 
With AP Inputs