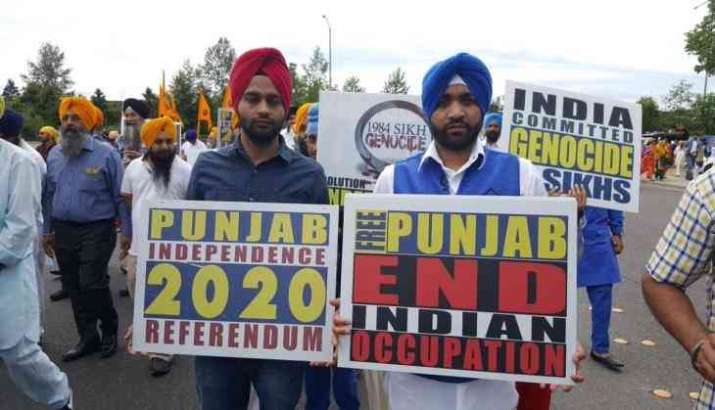 The US-based separatist group Sikhs for Justice (SFJ) is going ahead with its planned pro-Khalistan rally 'Punjab Referendum 2020' in the United Kingdom's capital London today despite strong protest by India. 
A month ago, India had issued a demarche to UK, expressing serious reservations over UK's territory being used to question the sovereignty of India. It also pointed out that SFJ was acting as a front for terror activities. But the UK authorities denied India's request to stop the rally by saying that that people in Britain have the right to protest provided they stay within the limits of the law.
"People in the UK have a right to protest and to demonstrate their views, provided they act within the law," the High Commission stated on its Twitter handle. 
"Should a protest contravene the law, the police have powers to deal with activities that spread hate or deliberately raise tensions through violence or public disorder," it said.
SFJ, a human rights advocacy group with radical leaning, plans to hold what it calls a "London Declaration" on an independence referendum for the Indian state of Punjab at Trafalgar Square in London today.
According to the Referendum website, "Punjab Referendum 2020 is a campaign to liberate Punjab, currently occupied by India. The campaign aims to gage the will of the Punjabi people with regards to reestablishing Punjab as a nation state." They further claim that once they establish consensus on the question of independence, the group will go to the UN "for reestablishing the country of Punjab". This issue has emerged as a point of friction between India and UK. 
India on Thursday said it is for Britain to decide whether to allow an event that seeks to promote violence and secessionism. "We have drawn their (Britain's) attention to the fact that the event in London is a separatist activity, which impinges on India's territorial integrity," External Affairs Ministry spokesperson Raveesh Kumar said at a media briefing on Thursday.
"We have said that it seeks to propagate violence, secessionism and hatred. 
"And of course, we expect them (Britain) to take into account the larger perspective of the relationship when they take a decision in such matters."
Minister of State for External Affairs General (R) VK Singh told the Rajya Sabha on August 2 that the Ministry of External Affairs, Government of India and the Indian High Commission in London have sent separate Note Verbales requesting the UK government to deny permission for the event.
To the question raised by Member of Parliament AK Selvaraj, Singh further added, "On July 11, 2018, the Indian High Commissioner to the United Kingdom raised the matter in a demarche with Mr Mark Field, Minister of State for Asia at the UK Foreign and Commonwealth Office and asked the British Government to deny permission for this event."
No takers for 'Referendum 2020'in Punjab: Amarinder
Punjab Chief Minister Amarinder Singh said on Friday that there are no takers for the 'Referendum 2020' campaign in Punjab and added that the proposed rally at Trafalgar Square in London on August 12 is an attempt by a handful of frustrated ISI-backed foreign based Sikhs to foment trouble in Punjab and India by raising divisive voices.
"I am not at all worried about these fringe elements and their proposed August 12 rally. They have been at it for long and have been playing in the hands of the ISI, which has an open agenda to foment trouble in Punjab and India," he said, adding that he would not allow anyone to disturb the peace in the state.
Amarinder said that he has directed the Punjab Police to deal with any attempts to revive terrorism with a "strict hand".
He said in the past 15 months of his government, the police had cracked down on several terror modules and seized a sizeable number of arms and ammunition and narcotics.
On the question of Britain government's refusal to stop the 'Referendum 2020' rally, the Chief Minister said: "It does not bother me. This entire referendum business is just a money making racket of Sikhs For Justice and its promoters." 
He said there are no takers for this campaign in the state, as people want peace and development.The chief minister castigated SFJ, describing it is a "sham organisation", which does not deal in any human rights activities.
He said only a handful of "frustrated" Sikhs, based in countries like the United Kingdom, Canada, USA and Germany, were backing this campaign, which he said will not last long."We are prepared to deal with these Khalistani elements. If they come with arms, my advise to them is to lay them down or they would be dealt with accordingly," he said.
(With inputs from agencies)