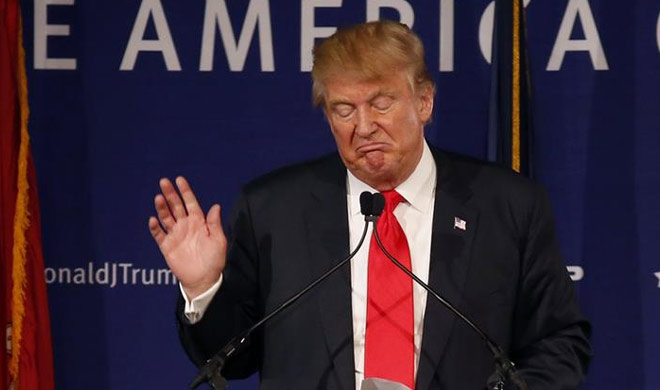 Donald Trump's job approval rating stands at just 44 per cent, a record low for a newly inaugurated President, according to a new joint NBC News and Wall Street Journal poll.
In the poll, conducted between February 18-22, 48 per cent of Americans said they disapprove of Trump's performance as President and 32 per cent said that his first month in office demonstrated that he is not up to the job. 
Asked about early challenges in the first month of his presidency, 52 per cent called the issues "real problems" that are specific to his administration, while 43 per cent of Americans attributed them to typical "growing pains" for any new President.
The new rating comes two days before Trump is set to address a joint session of Congress, a State of the Union-style speech in which new presidents typically lay out their vision for the country, NBC News reported.
According to the poll, he is the only President in the history of modern polling to begin his first term with a net negative approval rating. Compared to Trump's net negative rating of -4 per cent, former Barack Obama began his presidency with a net positive of 34 per cent.
Trump also continues to register particularly dismal ratings when it comes to his temperament, with just 18 per cent giving his demeanour a thumbs up compared to 55 per cent who rank it as poor.
His personal favourability rating -- 43 per cent positive and 47 per cent negative -- was stable compared to previous polls, and a majority of Americans -- 57 per cent -- said that he was performing about how they expected him to in the White House. 
Six-in-10 Americans said they were hopeful and optimistic about the future of the country, including an overwhelming 87 per cent of Republicans (but just 37 per cent of Democrats), the poll showed.
And a majority of respondents to the poll -- 57 per cent - also said that Trump was likely to "bring real change in the direction of the country".