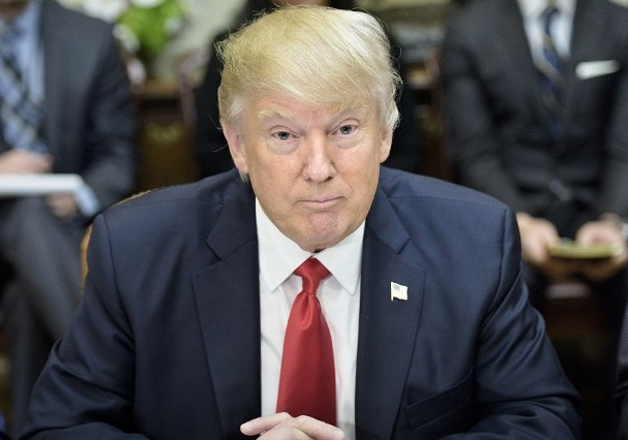 US President Donald Trump has lashed out at the appeals court judges weighing his travel ban order.
Speaking to a group of police chiefs here on Wednesday, Trump said that some of the deliberations he had heard were 'disgraceful' and that his immigration order was 'done for the security of our nation'.
He quoted from the portion of the immigration law that he said gave him the power to enact the ban, calling it 'beautifully written' and saying 'a bad high school student would understand this'.
The President insisted that his order banning travellers from Muslim-majority nations, which is currently blocked, should be respected. The order has barred all visitors from seven Muslim-majority nations -- Iran, Iraq, Libya, Somalia, Sudan, Syria and Yemen -- from entering the US for 90 days and suspended Syrian refugees' entry indefinitely and all other refugees' entry for 120 days. 
"It's really incredible to me that we have a court case that's going on so long. They're interpreting things differently than probably 100 per cent of the people in this room," he said.
"I don't ever want to call a court biased, so I won't call it biased, and we haven't had a decision yet, but courts seem to be so political and it would be so great for our justice system if they would be able to read a statement and do what's right, and that has to do with the security of our country, which is so important," he added.
In a hearing on Tuesday, a government lawyer faced tough questions over Trump's campaign promise to close US borders to Muslims. The court is made up of three judges: one appointed by former Democratic president Jimmy Carter, one by Republican George W Bush and one by Democrat Barack Obama.
Meanwhile, legal experts, Democrats and some Republicans criticized Trump's remarks as jeopardizing the independence of the judiciary and attempting to use political influence to sway the courts.
Colorado Judge Neil Gorsuch, the President's nominee for the Supreme Court too criticised Trump, describing his remarks as 'demoralizing and disheartening'.
"We have to allow you to do your job. And we have to give you the weapons that you need, and this is a weapon that you need and they're trying to take it away from you," he said.