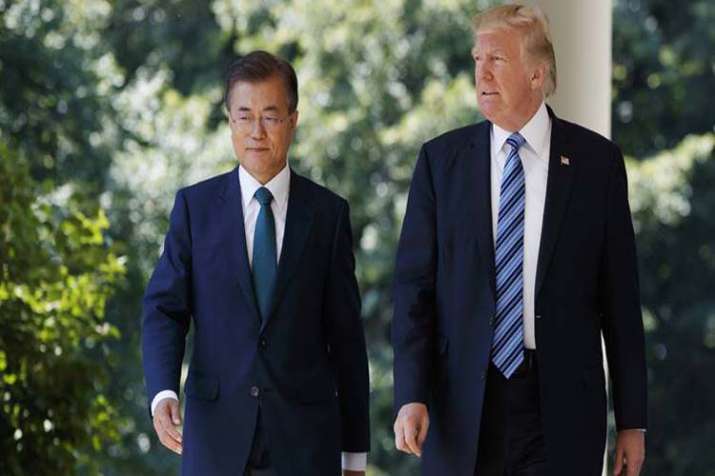 South Korean President Moon Jae-in on Tuesday said that US President Donald Trump deserves a Nobel Peace Prize for his efforts to end the standoff with North Korea. Moon Jae-in's comment came after the historic Inter-Korean summit where he held talks with North Korean supremo Kim Jong-Un.
Earlier in a congratulatory message, widow of former South Korean President Kim Dae-Jung who held the first-ever Inter-Korean Summit with Kim's late father and former leader of North Korea in 2000 had told Moon that she hoped that he would win the coveted prize, set to be announced in October. Kim Dae-Jung had won the Nobel Peace Prize in 2000 for his role in the summit.
"President Trump can take the Nobel Prize. All we need to take is peace", said President Moon in response.
The Inter-Korean Summit held at the Panmunjom village at the Demilitarized Zone (DMZ) was hailed as a major step in easing the tensions on the Korean peninsula. The summit also served as a prologue to the much-anticipated summit to be held between President Trump and Kim Jong-Un. The summit is slated to take place in either May or early June.
Earlier in January, President Moon had said that Trump deserves big credit for bringing up the idea regarding the Inter-Korean talks. "It could be a resulting work of the US-led sanctions and pressure", said Moon.
President Trump had acknowledged the Inter-Korean Summit and praised both the leaders of their mutual declaration seeking complete denuclearisation of the Korean peninsula.
The latest conciliatory push, moderated by Moon Jae-In who advocates for dialogue between the US and North Korea has raised hopes for a potential detente that was unimaginable few months ago.
Trump's war of words with Kim last year owing to Pyongyang's repeated launch of inter-continental ballistic missiles sparked fears of a possible World War III. Trump had warned of 'fire and fury' against the nuclear-armed North. Both the leaders even traded insults, with Trump calling Kim 'Rocket Man' and Kim retaliating, branding Trump as a 'dotard'.
Meanwhile, President Trump has thanked Moon Jae-In for his 'generous Nobel nod'. However, he reiterated Moon's statements that peace will always remain a priority.