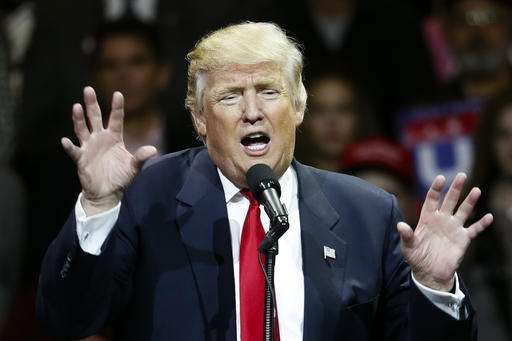 President Donald Trump says he's canceled a meeting with Russian President Vladimir Putin, citing Russia's seizure of Ukrainian vessels.
Trump tweeted his decision Thursday after departing Washington for a world leader summit in Argentina, where he and Putin were to meet.
Trump says "based on the fact that the ships and sailors have not been returned to Ukraine from Russia, I have decided it would be best for all parties concerned to cancel my previously scheduled meeting in Argentina with President Vladimir Putin. I look forward to a meaningful Summit again as soon as this situation is resolved!"
Russia recently seized three Ukrainian vessels and crews. Russia said Ukraine didn't have permission to pass between Russia's mainland and the Crimean Peninsula.
The Kremlin says it has not been notified of a cancellation of the much-anticipated meeting between Russian President Vladimir Putin and U.S. President Donald Trump.
Russian news agencies on Thursday quoted Dmitry Peskov, Putin's spokesman, as saying that the Kremlin only learnt about the cancellation from Trump's tweet. He says the Russian delegation is already on its way to the G-20 summit in Argentina.
Peskov said the cancellation means that Putin will have "a couple of more hours" for "useful meetings" with other leaders of the world's 20 largest economies.