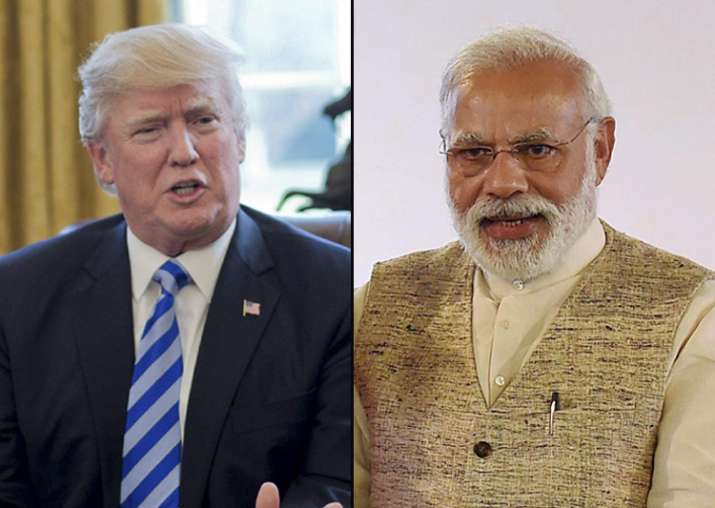 The White House on Tuesday said that US President Donald Trump was looking forward to hosting Prime Minister Narendra Modi later this year. 
Tha announcement comes a day after Trump called Modi to congratulate him for leading the BJP to victory in recently concluded Assembly elections including the saffron party's landslide win in Uttar Pradesh.. This was the third telephonic conversation the US President held with Modi his electoral victory in November last year. 
The President also expressed his support to the PM's economic reform agenda, the White House said on Tuesday.
"President Donald J Trump spoke with Prime Minister Narendra Modi of India to congratulate him on the outcome of India's recent state-level elections," the White House said in a readout of the call which took place on Monday.
"President Trump expressed support for the Prime Minister's economic reform agenda and emphasized his great respect for the people of India," it said.
"President Trump also said he looks forward to hosting Prime Minister Modi in Washington later this year," said the statement issued by the White House.
Earlier, White House Press Secretary Sean Spicer told reporters on Monday that Trump congratulated Modi and German Chancellor Angela Merkel on their electoral victories.
"The president spoke with German Chancellor Merkel and Indian Prime Minister Modi earlier today to congratulate them on their parties' success in recent elections," Spicer said.
Following the elections, the BJP formed government in four states: Uttar Pradesh, Manipur, Uttarakhand and Goa. It, however, lost Punjab to main rival Congress.
Previously, PM Modi and US President Trump spoke on phone on January 24, when they had resolved to stand "shoulder-to-shoulder" in the global fight against terrorism and for defence and security.
According to a White House statement then, Trump had "emphasised that the US considers India a true friend and partner in addressing challenges around the world."
Prime Minister Modi was the fifth foreign leader Trump had spoken to on phone after he was sworn-in as the US President on January 20.

He had by then spoken to British Prime Minister Theresa May, Canada's Justin Trudeau, Mexican President Enrique Pena Nieto, Israeli Prime Minister Benjamin Netanyahu and the Egyptian President Abdel Fattah el-Sisi.
After Trump's surprise victory in the November 8 elections, PM Modi was among the first world leaders to congratulate him.