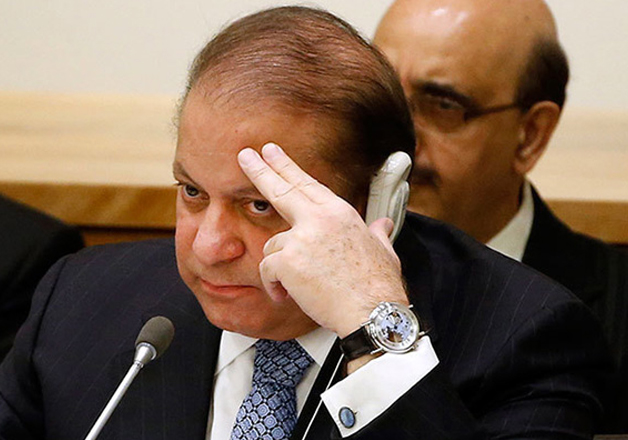 In light of Indian army led surgical strikes at seven terrorists' launch pads in Pakistan-occupied Kashmir on Wednesday night, Pakistan's Prime Minister Nawaz Sharif will hold a federal cabinet meeting today to discuss the growing tensions between India and Pakistan. 
Officials from the Interior and Defence ministries will brief the Prime Minister over national security, an official statement from the Prime Minister's House stated. 
Two Pakistani soldiers died when Indian forces resorted to firing across the Line of Control (LoC) on Thursday amid mounting tensions between the two nuclear-armed adversaries over Jammu and Kashmir, the Pakistani Army confirmed. 
The meeting will also discuss Indian "atrocities" in the Kashmir Valley and the threats to Pakistan, it said. 
"Agenda item number one of cabinet meeting will be discussion on present Kashmir situation, UNGA visit and bilateral meetings of PM in New York. Foreign Secretary (Aizaz Chaudhry) will brief the cabinet before the discussion," the statement said. 
Pak UN Ambassador to meet Ban Ki-moon over 'surgical strikes'
Meanwhile, Pakistan's UN Ambassador Maleeha Lodhi is set to meet UN chief ban Ki-moon on Friday to inform him about the surgical strikes that India carried out on terror launch pads across the Line of Control (PoK).
On Thursday, Lodhi met with New Zealand's UN Ambassador Gerard van Bohemen, who is the current president of the 15-member Security Council and urged him to informally brief the body on the escalating tension along the border, Radio Pakistan reported.
Talking to the media after the meeting, Lodhi said she brought to his attention the dangerous situation that was building up in "our region as a result of Indian provocation".
She said, "Our call to the international community is to avert a crisis before there is one."
Lodhi said Pakistan was "showing maximum restraint but there were limits to our restraint if India continues with provocations."
An unspecified number of terrorists and Pakistani troops were killed in the late Wednesday operation across Jammu and Kashmir's Kupwara and Poonch sectors as the army moved Special Forces into Pakistan-held Kashmir.
Pakistan, however, insisted that no "surgical strike" took place and that there were only firing and artillery shelling between the two armies across the LoC that killed two of its soldiers and left some others wounded. Pakistan threatened to repel any Indian attack. 
Pakistani media said one Indian soldier, identified as Chandu Babulal Chohan, 22, from Maharashtra, had been captured and eight others had been killed.
On Thursday, Prime Minister Nawaz Sharif reviewed Pakistan's defence preparedness, holding talks with army chief Raheel Sharif and other top aides after India carried out surgical strikes against terror bases across the LoC. 
Sharif and Raheel had a telephonic conversation during which they discussed situation at the Line of Control (LoC), local media reported. 
(With inputs from agencies)