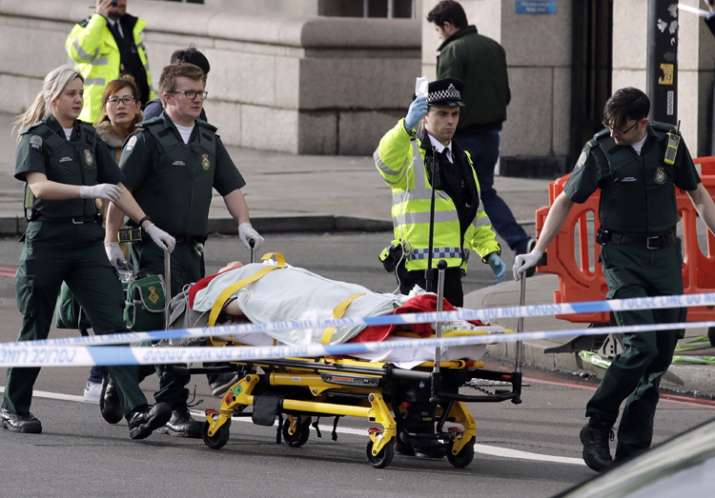 A British police officer was today stabbed and his attacker shot dead near the British Parliament complex, in what Scotland Yard are describing as a "terrorist incident."
"We are treating this as a terrorist incident until we know otherwise," the Metropolitan Police said on Twitter.
According to reports so far, the incident unfolded as a man tried to gain entry into the Parliament via the main entrance and stabbed a police officer.
Plain-clothes armed officers warned him before shooting a number of rounds. He was later seen being covered by blankets, presumed dead.
In a related incident, a woman died after a speeding vehicle mowed down several pedestrians on Westminster Bridge nearby before ramming into the side of the House of Commons building.
A doctor at the St Thomas' Hospital, Colleen Anderson, said that a woman has died and about a dozen people are hurt, some with "catastrophic" injuries in the incident. 
Anderson said: "There were people across the bridge. There were some with minor injuries, some catastrophic. Some had injuries they could walk away from or who have life-changing injuries," adding that a female pedestrian has died.
She said there might be a dozen injured in all.
It remains unclear how many attackers may have been involved in the terror incident.
British Prime Minister Theresa May was seen being ushered into a car as gunfire rang out at Parliament during the incident. Downing Street said the PM was "safe" as emergency services helicopter was seen landing in Parliament Square, which has been cordoned off and closed to traffic.
Commons Leader David Lidington, who suspended the Parliament session as the incident unfolded outside, told MPs the "alleged assailant was shot by armed police".
"It seems that a police officer has been stabbed, that the alleged assailant was shot by armed police. An air ambulance is currently attending the scene to remove the casualties," Lidington said.
"There are also reports of further violent incidents in the vicinity of the Palace of Westminster but I hope colleagues on all sides will appreciate that it'd be wrong of me to go into further details until we have confirmation from the police and from the House security authorities about what is going on," he added.
Press Association political editor Andrew Woodcock, who witnessed the scenes unfolding from his office window, said, "I heard shouts and screams from outside and looked out, and there was a group of maybe 40 or 50 people running round the corner from Bridge Street into Parliament Square.
"They appeared to be running away from something.
"As the group arrived at the Carriage Gates, where policemen are posted at the security entrance, a man suddenly ran out of the crowd and into the yard.
"He seemed to be holding up a long kitchen knife," he said.
An eye witness, Radoslaw Sikorski, a senior fellow at Harvard's Centre for European Studies, posted a video to Twitter purporting to show people lying injured in the road on Westminster Bridge.
He wrote: "A car on Westminster Bridge has just mowed down at least 5 people." 
Transport for London said Westminster underground station has been shut at the police's request, and buses diverted.
(With PTI inputs)