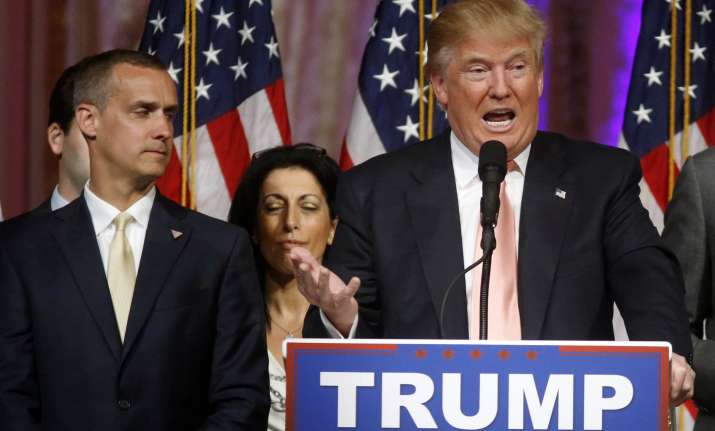 Washington: The Florida police have charged and arrested Presidential hopeful Donald Trump's campaign manager Corey Lewandowski with simple assault in connection with an incident on March 8 involving a reporter.
Police records said Lewandowski, 42, was charged for intentionally grabbing and bruising the arm of Michelle Fields, a reporter at the time for the conservative news outlet Breitbart, against her will at a Trump campaign event.
Police in Jupiter, Florida issued Lewandowski a notice Tuesday to appear before a judge on May 4 for the misdemeanor charge.
A surveillance video released by the police appears to show Lewandowski grabbing a reporter for Breitbart News as she tried to ask Trump a question during a March 8 campaign event.
Meanwhile, Trump's campaign on Tuesday said manager Corey Lewandowski was "absolutely innocent" following a decision by Florida police to charge him with battery.
The Republican front-runner's campaign issued a statement after Jupiter, Florida, police charged Lewandowski with battery.
A video surveillance tape obtained by The Associated Press appears to show Lewandowski grabbing Michelle Fields' arm as she tried to ask Trump a question at an 8 March event.
The statement said Lewandowski "will enter a plea of not guilty and looks forward to his day in court".
"He is completely confident that he will be exonerated."
Lewandowski has retained an attorney in West Palm Beach.
(With AP inputs)