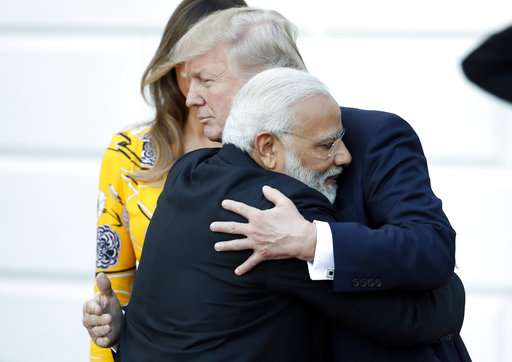 Prime Minister Narendra Modi extended a warm invitation to Donald Trump and his family to visit India when he met the US President at the White House on Monday.
PM Modi and President Trump held extensive talks, including one-on- one interactions, during their first bilateral meeting.
"I would like to invite you to India, along with your family. And I hope that you will give me the opportunity to welcome you and host you in India," Modi said in his remarks, standing alongside Trump at the White House's Rose Garden.
Trump repeatedly thanked Modi for visiting the US and the White House, saying he enjoyed their "very productive conversation".
"The future of our partnership has never looked brighter. India and the US will always be tied together in friendship and respect," he said.
Modi also specially invited Trumps daughter Ivanka to lead the US delegation to the Global Entrepreneurship Summit in India later this year.
""And I believe she has accepted," Trump said.
Modi also thanked Trump for his "feelings of friendship" towards India and himself. 
(With PTI inputs)