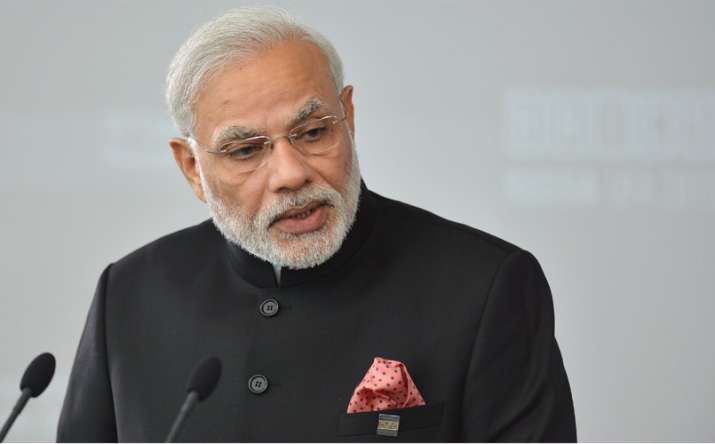 On the third and last leg of his three-nation tour of southeast Asia, Prime Minister Narendra Modi on Thursday arrived in Singapore.
PM Modi is scheduled to hold talks with the Singapore's top leadership besides delivering a keynote address at the Shangri-La Dialogue on June 1. 
The prime minister arrived in Singapore after a brief halt in Malaysia where he met the newly-elected Malaysian Prime Minister Mahathir Mohammad and discussed ways to boost bilateral ties.
Modi will hold talks with his Singapore counterpart Lee Hsien Loong and pay a courtesy visit to President Halimah Yacob. 
Prime Minister Lee will host an official lunch for Modi. The two prime ministers will attend a business event on innovation and entrepreneurship later in the day at the Marina Bay Sands Convention Centre. 
Prime Minister Modi will deliver a keynote address at the 17th International Institute for Strategic Studies Shangri-La Dialogue on June 1. 
PM Modi addressed a Business and Community Event in Singapore a short while ago.
Highlights of PM Modi's speech:
5:40 pm: India has witnessed sharp rise in FDI in last 3 years, says PM Modi
5:38 pm: ​We are strongly focussed on financial inclusion. In last 3 yrs, we've opened 316 million bank accounts for those who never had one. It is a new source of dignity for every citizen. More than $12 billion have been deposited in these accounts: PM Modi
5:36 pm: Now 99% of Indian households have bank accounts. Government benefits worth more than $50 billion dollar have been transferred directly to beneficiaries. Nowhere in the world has banking expansion taken place on such a scale and such a time: PM Modi
5:34 pm: Over the past three years, 128 million loans worth more than 90 billion U.S.dollars have been extended- 74% of these have gone to women; yes, 74% to women!: PM Modi 
5:33 pm: We have launched sector-specifc modernisation and productivity programmes, reduced corporate tax rate and made tax benefits more attractive and easier. The Indian Startup sector is flourishing and is now the third largest in the world: PM Modi 
5:30 pm: In India, the prresent is changing rapidly. A new India is taking shape: PM Modi
5:28 pm: We added over 80,000 MW of power in just three years. And, in renewable energy, we have become the sixth largest producer in the world. This is our commitment to a green and sustainable future: PM Modi  
5:26 pm: Our infrastructure sector is expanding at record speed. Last year, we built nearly 10,000 km of national highway - that is 27 km daily, almost double the pace a few years ago: PM Modi
5:25 pm: When India opened up to the world and turnes to the east, Singapore became a partner and a bridge between India and ASEAN: PM Modi
5:24 pm: Relations between India and Singapore are among the warmest and closest, says PM Modi
Modi is also scheduled to visit the Singapore Botanic Gardens where an orchid will be named in his honour. 
"Prime Minister Modi's visit reflects the close relations between Singapore and India and will build on the India-Singapore Strategic Partnership signed in 2015," said a foreign ministry statement.
"Apart from meeting the top leadership of Singapore, he would also deliver the keynote address at the 18th Shangri-La Dialogue," Indian External Affairs Ministry spokesperson Raveesh Kumar said.
Earlier in the day, Modi made a brief stopover in Kuala Lumpur where he met newly elected Malaysian Prime Minister Mahathir Mohamad. 
"The two leaders had a productive exchange of views on strengthening our strategic partnership," Kumar said.
Modi congratulated Mahathir on assuming office. 
Mahathir, who governed Malaysia for more than two decades, became, at the age of 92, the world's oldest elected leader earlier this month.
Later on Thursday, Modi will attend a business and community event in Singapore and also take part in a business round table with CEOs.
On Friday, Modi will call on Singapore President Halimah Yacob and then hold a summit with Prime Minister Lee Hsien Loong. 
In the evening, he will deliver the keynote address at the Shangri-La Dialogue, becoming the first Indian Prime Minister to do so in the Track I annual inter-governmental security forum.