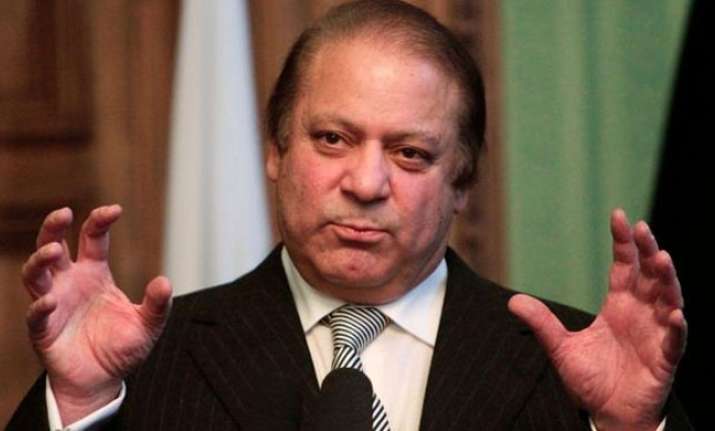 Pakistani Prime Minister Nawaz Sharif today said that his country will not tolerate India's "deliberate targeting" of civilians and ambulances.
According to a report in 'Dawn', Nawaz Sharif also said that Pakistan is exercising maximum restraint despite frequent provocation by Indian forces.
"We cannot tolerate deliberate targeting of innocent civilians particularly children and women, ambulances and civilian transport," Nawaz Sharif said during a high-level meeting to review the situation at LoC. 
"Pakistan has exercised maximum restraint despite the continuing ceasefire violations from Indian security forces along the Line of Control (LoC)," he added.
Apart from Nawaz Sharif, the meeting was attended by his Foreign Affairs advider Sartaj Aziz, Director-General Inter-Services Intelligence Rizwan Akhtar, Special Assistant to the Prime Minister on Foreign Affairs Tariq Fatemi and National Security Adviser Lt-General (R) Nasser Khan Janjua. 
Pakistan has accused Indian troops of killing 10 civilians and three Pakistan Army soldiers on Wednesday. 
A statement issued by Pakistani Prime Minister's office said that the meeting paid rich tributes to the slain soldiers of the Pakistan Army and deplored the belligerent targeting of the ambulance which was rescuing those injured in the attack on the bus, a blatant violation of International Humanitarian Law.
"Kashmir issue is an unfinished agenda of the Partition; we will never abandon our Kashmiri brethren in their freedom struggle," the statement quoted Nawaz Sharif as saying during the meeting.
"The world in general and India in particular should know that the Pakistani nation will never abandon their Kashmiri brethren and will continue to support them in their just and UN mandated freedom struggle," the statement added.