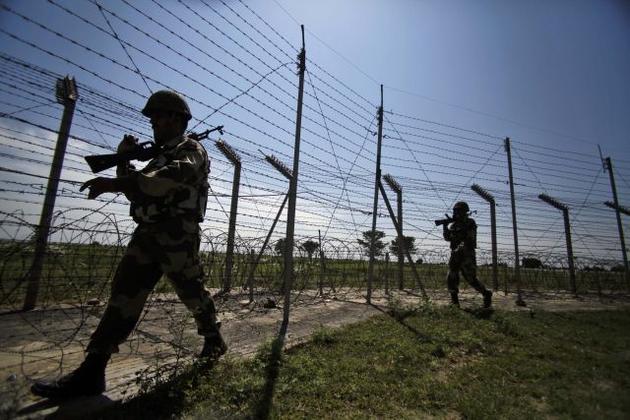 Pakistan on Tuesday summoned India's Deputy High Commissioner to lodge a strong protest against "ceasefire violations" along the International Border (IB), the Foreign Office said. 
Deputy High Commissioner JP Singh was summoned by the Director General (South Asia and South Asian Association for Regional Cooperation).  
A strong protest was lodged against the unprovoked ceasefire violations on October 23-24 by Indian forces at the Working Boundary in Phuklian and Chaprar Sectors in which two civilians, including a one-and-a-half-year-old girl, were killed and six others were injured, Foreign Office said in a statement.  
"It was conveyed to the Indian side that it should investigate the incident and share the findings with Pakistan, instruct its troops to respect the Ceasefire in letter and spirit, refrain from intentionally targeting the villages and maintain peace on the Working Boundary," the statement said.  
An infant and an elderly man were killed and seven people were injured in heavy mortar shelling by the Indian Border Security Force (BSF) in villages along the Sialkot IB on Monday, Dawn reported. 
Pakistan has also lodged a protest with the United Nations Military Observers group in India and Pakistan (UNMOGIP) over the killing of two civilians in 'unprovoked' firing across the Working Boundary.  
"India resorted to unprovoked firing across the Line of Control and the Working Boundary in the Bhimber and Chaprar sectors respectively today," Inter-Services Public Relations said.  
"The exchange of fire was ongoing," the statement added.  
"Ceasefire violations by India Protest lodged by Pakistan with UNMOGIP regarding unprovoked firing by Indian forces on Working Boundary last night that killed innocent civilians," M Nafees Zakaria, Spokesperson of Ministry of Foreign Affairs Pakistan, tweeted yesterday.  
Foreign Office Spokesperson Nafees Zakaria last week alleged that India has committed more than 90 ceasefire violations in 2016. 
He claimed that Pakistan has "never violated the ceasefire agreement" signed between the two countries in 2003 to maintain peace at the border and the Line of Control. 
Meanwhile, India today said that Pakistani forces today violated the ceasefire along the Line of Control in Noushera sector and RS Pura sector on International Border by targeting Indian positions and civilian population with mortars and small arm fire, prompting the Indian side to give a "befitting response".  
There was no report of any loss of life or the property on the Indian side as the firing from both the sides was still going on, an Indian Army officer said.  
A six-year-old boy and a BSF Jawan were killed and 10 people including 8 civilians were injured in the shelling yesterday when Pakistan Rangers targeted over 25 Border out Posts in the border hamlets along International Border. 
There have been over 40 ceasefire violations from the Pakistani side since India carried out surgical strikes inside Pakistan occupied Kashmir targeting terror launching pads, post the attack on an army camp in Uri on September 18.