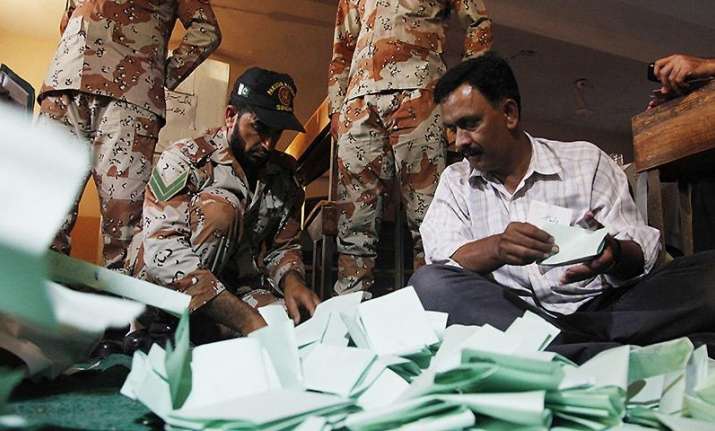 Pakistan's military has spread across the country ahead of Wednesday's election. Hundreds of thousands of troops are deployed to oversee polling stations in a short but acrimonious contest. 
As per reports, in order to ensure that the election goes smoothly, the armed forces have stationed over 370,000 personnel nationwide. It is the largest such deployment in Pakistan's history on an election day.
According to the Election Commission of Pakistan (ECP), 3,459 candidates are contesting from 272 general seats of the National Assembly, while 8,396 candidates are running for 577 general seats of the four provincial assemblies. 
There are 105.96 million registered voters in the country. 
Catch all the latest news about Lok Sabha elections 2019 HERE
The run-up to the July 25 elections have seen a massive crackdown on the media and allegations that the military has secretly backed the campaign of former cricketer Imran Khan while targeting his political opponents. 
The military has ruled Pakistan through various coups for nearly half of the country's history since independence in 1947. 
Army chief General Qamar Bajwa assured that military personnel deployed for election duties would strictly comply with the code of conduct given by the ECP. He also said the Army will only perform a facilitative role in the elections and that the polling process is to remain under the control and authority of the ECP. 
Some of the infamous Pakistani extremist leaders, accused of spreading religious hatred and instigating sectarian violence, are among hundreds of candidates contesting the elections. 
The leading among them are Mumbai-terror attack mastermind Hafiz Saeed-led banned Jamat-ud Dawah's candidates who are fighting with an aim to make Pakistan a "citadel of Islam." 
Saeed's son and son-in-law are contesting the elections. 
A fierce battle is expected between Sharif's PML-N and Khan's Pakistan Tehreek-i-Insaf (PTI) in Punjab, the most populous province often known for deciding the next government in the country. 
For the first time in 2013, a civilian government in Pakistan completed its five-year term. 
Watch: Stage set for general elections in Pakistan today
(With inputs from PTI)