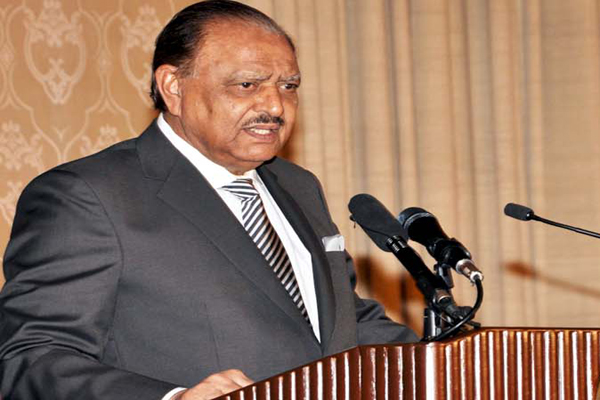 When Pakistan President Mamnoon Hussain started addressing the fifth and last session of the current Parliament today , he was greeted by the opposition leaders  with 'Go Nawaz Go' chants. 
President Hussain, however, continued his speech amid the protest by the opposition leaders. 
During his address, the President highlighted the achievements of the government in diverse sectors, including war against terrorism, law and order, economic challenges, power generation and agriculture. The speech was broadcast live.
Besides members of the Senate, the National Assembly, all governors and chief ministers, the services chiefs also attended the Parliament session.
The opposition, chanting "Go Nawaz Go" and "traitor", staged a walkout from Parliament.
Talking to media outside the Parliament building, Leader of Opposition Khursheed Shah criticised the President's speech, saying he did not address the issues of national importance, including corruption.
Earlier in the day, Prime Minister Nawaz Sharif called on the President at the President's House in Islamabad, where both discussed matters related to country's internal and external security situation.    
The Prime Minister briefed President Mamnoon about the details of meeting of cabinet's National Security Committee held on Wednesday.
(With IANS inputs)