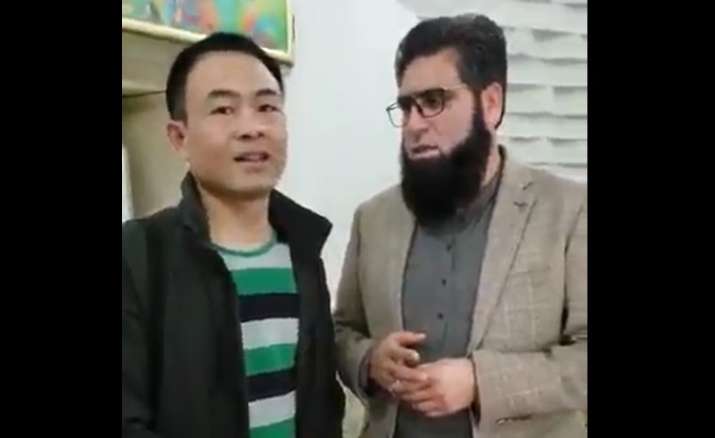 A video of Chinese national being converted to Islam by Pakistan's Minister for Mines and Minerals Amjad Ali has gone viral on the internet. According to Pakistan's local media, the video was released by the Pakistan Tehreek-e-Insaf (PTI) media and shows Ali first reciting the kalima and the Chinese national following the suit.
"Congratulations, you are a Muslim. Your name is Abdullah," the minister then tells the Chinese national. 
When asked, Ali stated that he was visiting Guangzhou in China when he met Abdullah at the tomb of Sa'ad bin Abi Waqas, Express Tribune reported.
"He captured a few pictures with us and later we started talking," Ali  said, adding that the pair began talking and he explained the religion to him. "He [Chinese national] was impressed and immediately asked us to convert him to Islam," the minister added.
Ali said Abdullah then travelled to Pakistan where he was taught the teachings of Islam.
The conversion of its national may not elicit a kind response for the communist dragon. Even as China is bending its back to maintain strong strategic ties in Pakistan to realise its Belt Road Initiative and Silk Route project, the cultural clashes at the individual-level have been known to cause strain between their ties in the past. There have been reports of Chinese nationals being attacked near the CPEC sites.
Earlier this month, a Chinese national was killed in Pakistan and cash worth Rs 3 million rupees was stolen from his person. (Read full story)
In November last year, Chinese consulate In Karanchi was attacked by the separatists, who see China as the 'oppressor' in the region. Around 10,000 Chinese nationals are also vulnerable from jihadist groups like Al Qaeda and Islamic State as they have declared China their enemy for the country's mistreatment of the ethnic Uygur Chinese Muslims in Xinjiang province, a Chinese daily said.