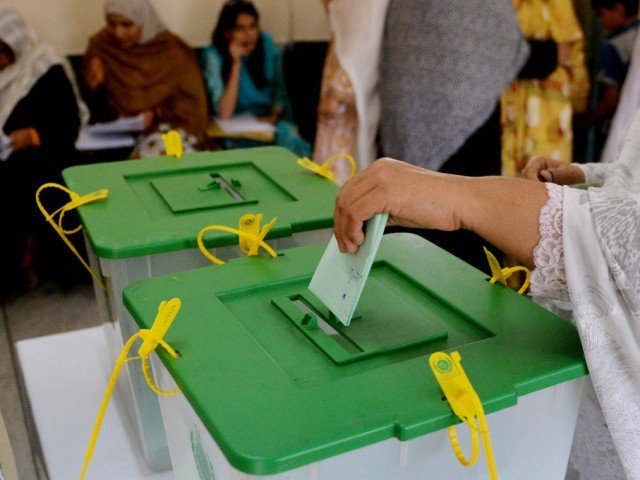 Pakistan's traditional religious parties feel threatened from the extreme right wing groups - linked to militants and jehadi outfits - which have fielded a huge number of candidates for the July 25 elections at the provincial and national level, media reports said today.
The Muttahida Majlis-e-Amal (MMA) - an alliance of religious parties of different Islamic sects - has fielded 192 candidates for the 272 directly elected constituencies of the National Assembly while hardline cleric Khadim Rizvi's Tehreek-e-Labaik Pakistan (TLP) alone has fielded 178 contenders for the same.
"The existing right wing parties feel threatened from the extreme right wing, which has fielded a massive number of contenders for various seats at both the provincial and national level," the Express Tribune reported.
The MMA includes traditional religious parties such as Jamaat-e-Islami led by Qazi Hussain Ahmed, Jamiat Ulema-e-Islam-Fazl headed by Maulana Fazlur Rehman, Jamiat Ulema-e-Pakistan led by Maulana Shah Ahmad Noorani and Tehreek-e-Jafaria led by Allama Sajid Naqvi.
Most of the extreme right wing parties have fielded their candidates from the platform of shadow parties.
The Pakistan Rah-e-Haq Party emerged from sectarian outfit Sipa-e-Sahaba party and Allah-o-Akbar Tehreek came to the fore as a shadow party of Hafiz Saeed-led Jamat-ud Dawa, and Rizvi's Tehreek-e-Labaik Pakistan (TLP). They have planted more candidates than the MMA combined, the paper said.
"In several constituencies, candidates with strong links to sectarian militancy and jihadi groups are being allowed to contest the general elections. What is most worrying is that the institutions that have the legal and constitutional powers to block these elements' entry into electoral politics are looking the other way," Dawn said in an editorial titled 'Militant candidates'.
The JuD, declared as a foreign terrorist organisation by the US in June 2014, has fielded 80 candidates for the National Assembly that includes Hafiz Saeed's son Hafiz Talha Saeed and son-in-law Hafiz Khalid Waleed.
Senior JuD leader Qari Muhammad Sheikh Yaqoob, a member of Laskar-e-Taida's central advisory committee who is on the US-designate terror list, is also running for a seat in parliament from Lahore.
Banned Ahle Sunnat Wal Jamaat Ahmed (ASWJ) chief Maulana Ahmed Ludhianvi is contesting the polls as an independent from Jhang while the group's Karachi-based leader Aurangzeb Farooqui is fighting for a National Assembly seat from the platform of the Rah-i-Haq party.
Ludhianvi was taken off the terrorism watch list by the caretaker government last month, while Farooqui is being backed in his constituency by the two mainstream parties - Imran Khan-led Pakistan Tehreek-e-Insaf and Pakistan Muslim League-Nawaz of jailed former prime minister Nawaz Sharif - and a former provincial minister belonging to the Pakistan Peoples Party.
Farooqui's outfit openly incites hatred and violence against minority Shia community and is widely believed to be the political front for Lashkar-e-Jhangvi, an even deadlier sectarian militant group with ties to Al Qaeda.
Most of its candidates are on the terrorism watch list. The party has fielded 21 candidates for National Assembly of its own and has made "agreements" with different mainstream parties in several constituencies.
There is little evidence that any of these individuals and organisations have renounced the politics of hate and violence. This puts a question mark over the state's counterterrorism strategy, Dawn said. 
"If extremists are allowed to contest for seats and make it to the legislatures without renouncing violence, what is to be made of NAP's goal three which states that militant outfits and armed gangs will not be allowed to operate in the country?" the paper said. 
"What good is banning organisations when they reappear with new names, and when militant leaders run for office?" it asked. 
As for political parties courting extremists for votes, they should realise that should the hardliners get their way, the whole democratic edifice will be wrapped up and replaced with something much darker, the paper added.