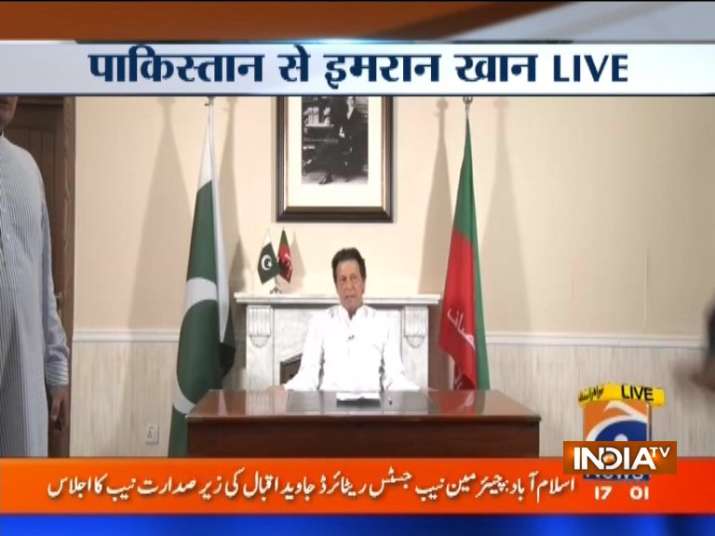 Cricketer-turned-politician Imran Khan's party - Pakistan Tehreek-i-Insaf (PTI) - was leading by handsome margin against former Prime Minister Nawaz Sharif's  Pakistan Muslim League-Nawaz (PML-N) as counting of votes for Pakistan's 11th general elections continues. With the PTI inching towards a majority mark, the PML-N has rejected the results claiming 'blatant rigging' of polls. However, the Election Commission of Pakistan (ECP) has rubbished all such charges. The PTI would need 137 seats for a simple majority in the National Assembly. Political experts say the PTI would look to get support from the PPP to form the next government in Pakistan.
PML-N chief Shehbaz Sharif has warned of country-wide protests as results/trends showed that his party is set to lose power. 
"Some five other parties including PPP have raised the rigging issue in polls. After consulting them, I will announce the future course of action. Pakistan has suffered today," he told journalists at a press conference late on Wednesday. "We will fight this injustice and use all options," he said, adding that there has been a "blatant violation" of the mandate.
Also Read: Imran Khan - All you need to know about the 'flamboyant' cricketer-turned-politician 
LATEST UPDATES: 
05:35 pm: My political struggle continued for 22 years, says Imran
05:34 pm: Imran Khan addresses press conference
02:50 pm: Amid complaints of big time rigging in polls, there are reports that Election Commission of Pakistan's (ECP) Results Transmission System (RTS) has malfunctioned. The ECP is now receiving results through fax, reports Dawn News.
02:21 pm: According to latest information available, PTI is ahead on 118 seat, PML-N on 60 and PPP om 35. A party needs 137 seats for clear majority
01:05 pm: Meanwhile, the PML-N has started efforts to form government in Punjab. According to DawnNews TV,  Hamza Shahbaz and Saad Rafique have been given the task to recruit independent winners so that the party could form provincial government in Punjab.
12:55 pm:  PTI chief Imran Khan is leads with 24,317 votes in Bannu, reports Dawn News. He  has already won NA-53 Islamabad 2 seat with 92,891 votes.
10:38 am: 
#PakistanElections2018 As per latest unofficial trends on Geo news, PTI leading on 119 seats, PMLN on 61 seats & PPP on 40 pic.twitter.com/RJXo1RyPRA

— ANI (@ANI) July 26, 2018
10:21 am: As per latest unofficial trends on Geo news, PTI's Imran Khan wins NA-53 Islamabad 2 with 92,891 votes.
09:35 am: As per latest information based on Pakistani media reports, PTI has won or ahead on 121 seats, PML-N on 58 seats, PPP 33 and others are ahead on 59 seats. 26/11 terror attack mastermind Hafiz Saeed led JuD's political wing Milli Muslim League-backed Allah-o-Akbar Tehreek has failed to open its account so far.
08:05 am: According to Pakistan's Geo TV, Imran Khan's PTI was leading on 110 seats followed by PML-N on 68. Bilawal Bhutto's Pakistan Peoples Party was ahead on 37 seats and Independents on 23, trends showed. 
Shehbaz Sharif didn't name who he believes is responsible for poll rigging but the country's influential army and spy agency Inter-Services Intelligence (ISI) are said to be playing a big role in the elections. 
"This is a horrible situation which I have never seen in my 30-year political career. These were the dirtiest polls in Pakistan's history. The results of several constituencies have been withheld where PML-N candidates were winning. We will not accept this justice," Sharif said.
Pakistan elections: Imran Khan inching towards PM's chair