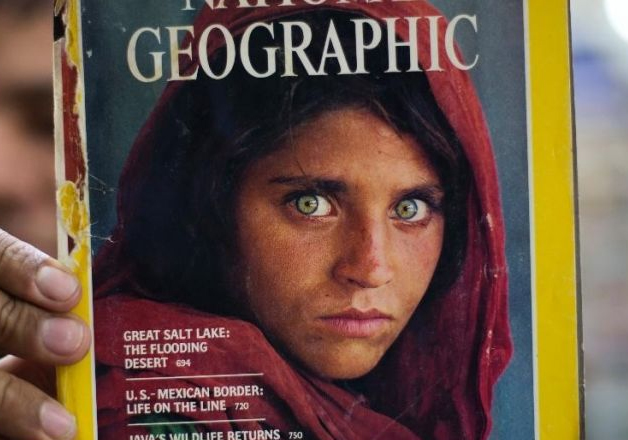 Days after authorities temporarily halted her deportation, Pakistan government on Tuesday finally deported Sharbat Gula, National Geographic's iconic green-eyed 'Afghan Girl'.
According to Pakistan's news website Dawn, Gula was handed over to Afghan security personnel at the Torkham border on Tuesday.
Earlier, Gula had refused the Khyber Pakhtunkhwa provincial government's offer to stay in Pakistan.
Gula, who was immortalised after her haunting picture taken at a refugee camp in Pakistan in 1985 was carried by the magazine on its cover and became a symbol of her country's wars, was arrested last week from her home here and faces deportation as early as Monday. 
She and the Afghan government, in an application submitted to the provincial government, pleaded to allow her to leave Pakistan on completion of her 15-day sentence today. 
The decision of stopping her deportation was taken on Saturday by the provincial government on humanitarian grounds and as a goodwill gesture towards Afghanistan. However, she refused to stay in Pakistan. 
A special anti-corruption and immigration court here ordered Gula's deportation to Afghanistan on Friday after serving a 15-day jail sentence besides slapping a fine of 1,10,000 rupees (USD 1,100). 
The spokesperson for the provincial government Mushtaq Ghani had said that directives not to deport Gula for the time being had been forwarded to the Home and Tribal Affairs Department, adding that the case needed to be taken up at the federal level. 
Pakistan's Interior Minister Chaudhry Nisar Ali Khan had indicated that Gula may be released on humanitarian grounds. 
However, officials of the Federal Investigation Agency (FIA) said that the court orders would have to be carried out in letter and spirit. 
Another official said that the special court's decision could only be challenged in the Supreme Court. However, he said, because Gula admitted to the crime, any appeal would only lengthen her stay in jail. 
Gula, who was dubbed as 'Mona Lisa of Afghan war', was arrested by the FIA for alleged forgery of a Pakistani Computerised National Identity Card (CNIC). 
She gained worldwide recognition when her image was featured on the cover of the June 1985 issue of National Geographic Magazine at a time when she was approximately 12 years old. 
According to interim charge sheet submitted on November 1, the prosecutor said that she accepted the main charge of faking her identity to get the CNIC. 
Gula said that her late husband, Rehmat Gul, had earlier made a manual national identity card in 1988, which was used to get the CNIC with the help of an agent who was bribed. 
Pakistan has been tackling the Afghan refugee crisis for over three decades. It is estimated that some three million Afghan refugees are living in Pakistan, half of whom are unregistered.