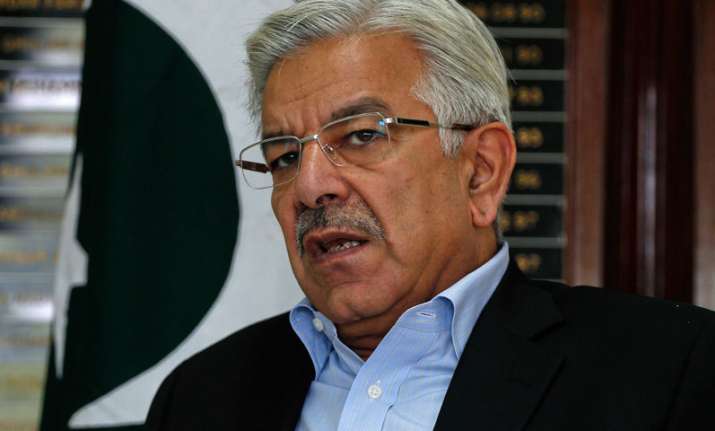 Fearing isolation in the international community in the aftermath of the Uri terror attack, Pakistan has refused to part ways with its age-old "conspiracy theory" with its Defence Minister terming the terror strike on Indian Army camp an "inside job". 
In a clear signal that Pakistan has little to defend itself from the 'terror state' tag it has been accorded with, the minister said that the assault that left 18 soldiers dead was planned by India itself. 
Propagating the lies spread by Islamabad, Defence Minister Khawaja Asif told Dawn News that no proof implicating Pakistan in the September 18 attack has surfaced yet, alleging it was "evident" the attack, which India has blamed on Pakistan-based militant group Jaish-e-Mohammad, was a plan "devised by India itself". 
Earlier, Pakistan media publicized this conspiracy theory saying that India staged the massacre of its own soldiers to divert attention from the army brutality in violence-hit Kashmir. 
Pakistan daily The News International had said in an article last week that Uri was chosen deliberately to antagonise the Sikhs from supporting the Muslims' struggle in Kashmir.  
Meanwhile, the evidences recovered from the four slain terrorists prove a clear hand of Pakistan. Indian Foreign Secretary S Jaishankar today summoned Pakistan High Commissioner Abdul Basit and presented him proof of cross-border origins of Uri attackers. 
Basit was informed that the two guides who helped infiltration were apprehended by local villagers and are now in custody. Those guides have been identified as Faizal Hussain Awan (20 yrs, S/O Gul Akbar, R/O Potha Jahangir, Muzzaffarabad) and Yasin Khurshid (19 yrs, S/O Mohammed Khurshid R/O Khiliana Kalan, Muzzaffarabad).  
The preliminary investigation into the Uri attacks has revealed the identity of one of the slain attackers as Hafiz Ahmed, a resident of Dharbang, Muzaffarabad. The investigators have also been able to identify handlers as Mohd Kabir Awan and Basharat, details of whom were provided to Basit.  
When asked why Pakistan did not raise the issue of captured alleged Indian spy Kulbhushan Jhadav, when Indian External Affairs Minister Sushma Swaraj termed Bahadur Ali a "living evidence" of cross border terrorism against India in the UN General Assembly, Asif said Islamabad has been "raising the issue on a daily basis" for several months.
"Not only Kulbhushan Jhadav but we also have Brahumdagh Bugti, to whom India issued a visa on a fake identity as proof," Asif said.
In a remark on the bill moved against Pakistan in the US Congress, Asif said anti-Pakistan elements are present in each and every country but the impact of their voices depends on the policies of those countries.
"Five or 10 voices raised against us are not enough evidence to declare Pakistan a terrorist state," he said.
According to Asif, the "entire world knows that India is not as serious about resolving the Kashmir dispute as Pakistan is" and that India has not received support from anywhere despite launching a diatribe against Pakistan.
He also said that China supports Pakistan's viewpoint on the Kashmir issue which Prime Minister Nawaz Sharif had raised again in his address at the general assembly. However, Beijing has shied away from officially acknowledging its support on Kashmir to Pakistan.
Tensions have been at peaks between the two neighbouring nations since July 9, a day after top militant Burhan Wani was killed in a clash with security forces. Pakistan had described Wani as a "martyr" while India hit back saying that Kashmir has been on edge due to Pakistan's interference in the country's "internal matters".
The relations further soured after the September 18 attack in which four terrorists, suspectedly from across the border, attacked the India Army camp at Uri.
Sushma Swaraj in her address on Monday told the General Assembly that Pakistan "harbours terrorism" and it should be "isolated" from the entire world.
Swaraj said there are nations "in our midst" where UN designated terrorists roam freely and deliver "their poisonous sermons of hate with impunity", an apparent reference to Mumbai attack mastermind and Jamaat-ud-Dawa chief Hafiz Saeed.  
She also made a strong pitch for isolating such nations who speak the language of terrorism and for whom sheltering terrorists has become "their calling card".