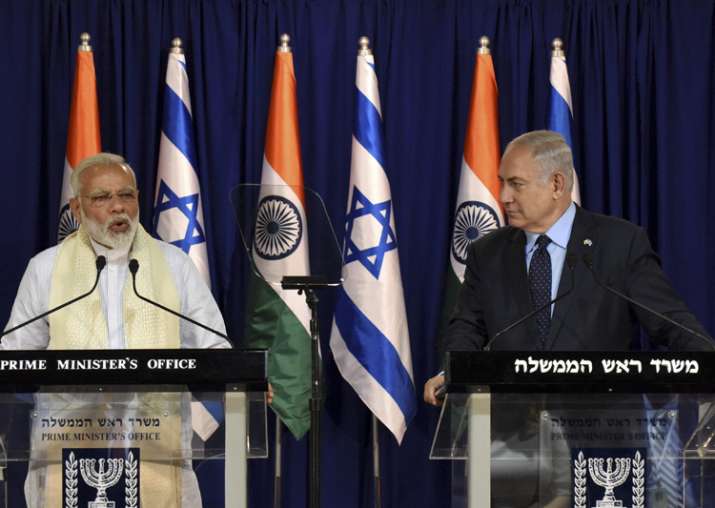 Pakistan is keeping wary eye on Prime Minister Narendra Modi's historic visit to Israel as it can have 'serious implications' on strategic stability in the region as New Delhi and Tel Aviv decide to grow their defence ties, a media report said. 
According to a report in The Express Tribune, Pakistan officially does not comment on bilateral visits of other heads of governments and states, but it is closely following Modi's trip. "Israel has long been a major supplier of arms and other defence equipment to India and those deals have deliberately been kept secret by the two sides. However, the two countries are now more open and publicly talk about their deepening defence cooperation," the daily said.
India got access to some of the most modern defence technologies of America through Israel, defence analyst Lt-Gen (retd) Amjad Shoaib was quoted as saying by the daily. Gen Shoaib said that India had greatly benefited from the defence and military ties with Israel.
Dr Zafar Nawaz Jaspal, an international affairs expert, said that growing defence cooperation between India and Israel will disturb strategic balance in the South Asian region.
The Quaid-e-Azam University professor believes Israel assistance can propel India's missile programme, something that would undermine Pakistan's policy of maintaining credible deterrence, the daily reported.
"One of the subjects on which the Indian media has created a lot of hype is the threat emanating from terrorism. It has worked hard to relate terrorism with Pakistan and blame it for virtually any terror incident occurring anywhere in India," the daily said.
Modi's three-day visit to Israel is the first by an Indian Prime Minister to the Jewish nation. Israeli Prime Minister Benjamin Netanyahu along with his entire cabinet went to Tel Aviv's Ben Gurion airport to receive Modi in a rare gesture. On the second day of the visit, Modi and Netanyahu decided to scale up their relationship to that of a strategic partnership in the fight against terror. The two nations also agreed to do much more to protect strategic interests of each other.
Former ambassador Ali Sarwar Naqvi believes that the Indian media is too much obsessed with Pakistan, saying: "No matter where Modi goes, India always tries to drag Pakistan along." However, Naqvi was sceptical if Israel would go too far to appease India. "Pakistan is not under the immediate radar of Israel. Their (Israel) priority at the moment is Middle East."
Naqvi further said their defence and military cooperation was something that had direct bearing on Pakistan.
For Gen Shoaib, there is a lesson for Pakistan in the ever-growing close relationship between Israel and India.
"If India can cement ties with Israel while at the same time maintaining diplomatic ties with its enemy Iran, why can't Pakistan also show flexibility in its foreign policy. Our foreign policy should not be merely aimed at appeasing any particular country. Rather we need to follow our own national interests," Gen said.
Some analysts have advocated maintaining working relationship with Israel, if not establishing full diplomatic ties, in order to further and protect Pakistan's interests. In 2005, during former president Pervez Musharraf's tenure, Pakistan and Israel established contacts and even foreign ministers of the two countries met in Turkey. However, things could not make headway further after that.
With PTI Inputs