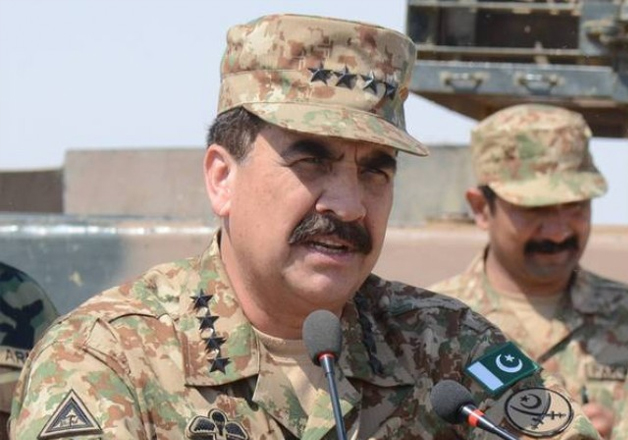 Pakistan's Army Chief Gen Raheel Sharif today warned India and its spy agency that Islamabad knows its 'enemies' and is fully aware of their 'nefarious designs'.
Making a special mention of Indian PM Narendra Modi and the Research and Analysis Wing (RAW), he said Pakistan's frontiers are totally secure and that Islamabad will take every step to ensure security, Dawn News reported.
General Raheel made the remarks during an address at a seminar in Gilgit-Baltistan, which has been illegally occupied by Pakistan, to highlight the progress of the China Pakistan Economic Corridor (CPEC) project.
General Raheel said that CPEC would be completed and it will greatly benefit the people of Gilgit-Baltistan.
Gen Raheel said the army will provide foolproof security to CPEC which was a project of national importance.

 

"I am confident that the country is moving in right direction and we will ensure foolproof security of CPEC," he said.
Further, he acknowledged and appreciated the courage and determination of Gilgit-Baltistan's people and assured them that "China is working for the welfare and development of the region".
"I am also confident that Gilgit-Baltistan will develop like the Chinese area across the border," he said.
Asserting that Pakistan was determined to eliminate militancy, General Raheel said, "We don't care what the world says, but we are fighting for our survival and the way the army has worked for eradication of terrorism, no other army can do that."
His remark comes two days after US Secretary of State John Kerry made it clear that Pakistan had a lot more to do when it came to combating terrorism.
Kerry, who was in India for the fourth time as Secretary of State, had also said Pakistan must do away with non-state actors and disruptors who were not only affecting Indo-Pak relationship but are also hindering the efforts of US to achieve peace and stability in Afghanistan.