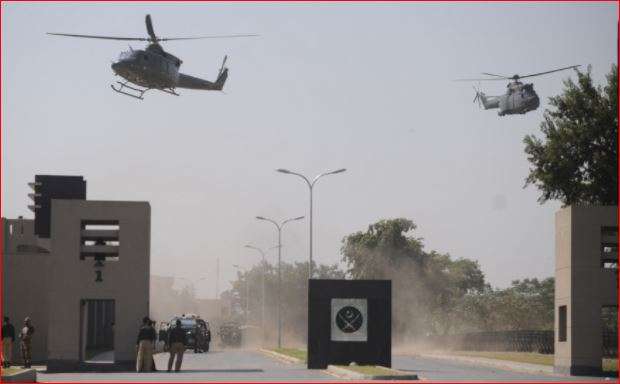 Pakistan Army is reportedly planning to shift its General Headquarters (GHQ) from Rawalpindi to Islamabad.
According to a report in Dawn, the Pak Army is all set to kick off construction on the ambitious project.
The report further added that the decision was disclosed by an official of the Capital Development Authority during a meeting of the Public Accounts Committee (PAC) subcommittee. 
The plan to shift the GHQ was shelved around October 2008 to 2009, at the instructions of then army chief Gen Ashfaq Pervez Kayani, due to financial constraints, the paper said.  
An audit report said the CDA had acquired 870 acres in D-11 and E-10 for GHQ at a rate of Rs 1,159 per square yard, but allotted the land to GHQ at a subsidised rate of Rs 200 per sq yd. 
The report said the subsidised allotment "resulted into loss to the authority amounting to Rs 4,034 million".  
A PAC subcommittee headed by Senator Mushahid Hussain Syed asked whether work on the site had begun, and in response CDA Member Estate Khushal Khan said: "They have revived the plan and are about to kick off construction activities." 
The audit pointed out that the CDA Directorate of Land went into a package deal to acquire land for GHQ, Islamic University in H-10 and for a residential sector in D-12, and allotted the affected villagers double plots.  
However, when the authority told the committee the land was procured mainly for GHQ, the committee took a lenient stance and settled the audit para accordingly, the report said. 
In 2009, six terrorists wearing Army uniforms launched a brazen assault on the General Headquarters, sparking an hour- long battle. Pakistani troops repelled the assault; six soldiers and four terrorists were killed during the fighting.
(With PTI inputs)