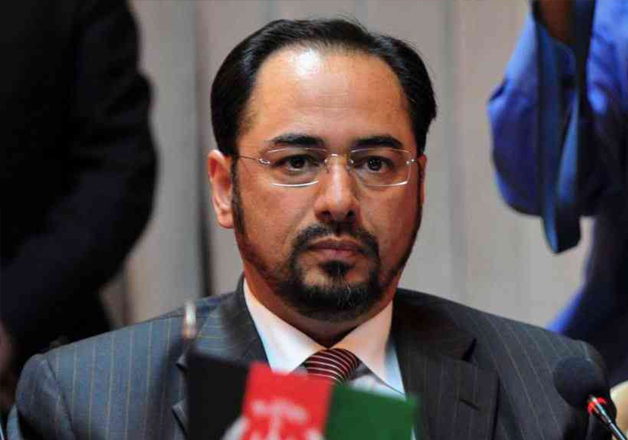 Afghanistan has reiterated its charge against Pakistan of continuing to harbour terrorists at home and sponsor terrorist activities in the neighbouring nations. 
Country's Foreign minister Salahuddin Rabbani, who is in Washington to attend the US-sponsored anti-coalition group meeting, slammed Islamabad for being the destabilising factor in his war-torn country.
Noting that the Ghani government, soon after coming to power, tried to open a new chapter of relationship with Islamabad, Rabbani told a Washington audience, "Unfortunately, we did not see practical steps taken by Pakistan on the promises they made."
Rabbani urged the Trump administration to put pressure on Pakistan to stop using terrorism as an instrument of state policy.
"Pakistan violates our air-space and frequently shells eastern Afghanistan. These routine violations undermine any prospect of normal bilateral relations, and pose a serious threat to peace and security in our region and beyond," Rabbani said. 
Rabbani said that defeating terrorism in Afghanistan and the region is, fundamentally, dependent on eliminating terrorist safe-havens in countries that harbour terrorists. 
"They must end their sponsorship of terrorism through continual flow of financial, moral and material aid," the Minister said. 
Rabbani also took the opportunity to praised India for being helpful in the development of his country.
Called India 'an important partner providing support where their means have allowed', he said, "We are thankful to India for the all-round development of Afghanistan."
Referring to the series of recent attacks in Kabul and Kandahar, the Foreign Minister said that these incidents proved that the Taliban did not want to come to the peace table.
He said that a paradigm shift in Pakistan was needed if any progress has to be made in peace efforts with the Taliban. 
"Now, we have stopped asking Pakistan to deliver Taliban to the peace table. We want Pakistan to take action against the Taliban leadership. They should not support violence in Afghanistan," he said.