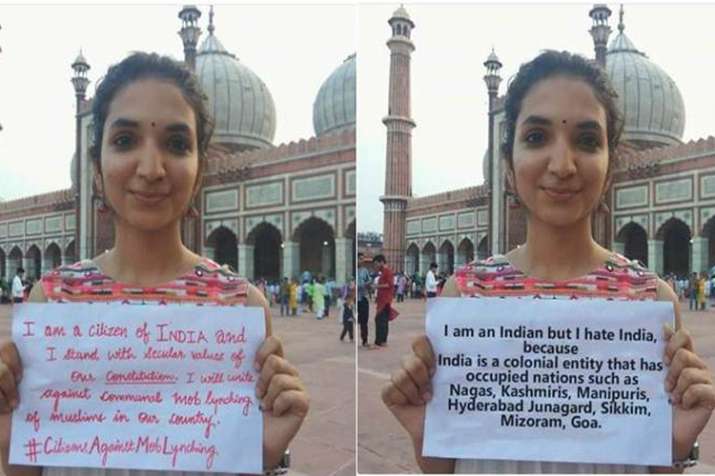 Pakistan was yet again embarrassed on Saturday after Twitter suspended the verified account of its Defence Forum, following a complaint by a Delhi University (DU) student that her photograph had been morphed and misused by it. 
Pakistan's Defence website, one of the longest running forums devoted to Pakistan's armed forces, says its now-deleted Twitter handle was followed by almost 308,500 people. It describes itself as "a one stop resource for Pakistan defence, strategic affairs, security issues, world defence and military affairs". 
However, it is not an official website of the armed forces.
The website tweeted a morphed photograph of Delhi University student activist Kawalpreet Kaur standing in front of a mosque with a placard that read: ""I am an Indian but I hate India, because India is a colonial entity that has occupied nations such as Nagas, Kashmiris, Manipuris, Hyderabad, Junagadh, Sikkim, Mizoram, Goa."
In the original photograph, Kawalpreet holds up a sheet of paper that bears this message: "I am a citizen of India and I stand with secular values of our Constitution. I will write against communal mob lynching of Muslims in our country #CitizensAgainstMobLynching."
Other than running malicious campaigns against several Pakistani journalists/activists, defencepk was also morphing photos to further its propaganda: pic.twitter.com/qK7ZLQM29G

— Naila Inayat (@nailainayat) November 18, 2017
In an accompanying tweet, Pakistan Defence said, "Indians are finally realizing the truth; their country is actually a colonialist entity." It deleted the tweet later, ANI reported. 
On Saturday, numerous Indian Twitter users complained about Pakistan Defence Forum's handle for posting the doctored image, following which Twitter suspended its verified account. 
Kawalpreet Kaur thanked everyone who reported Pakistan Defence's tweet. She said the message in her original picture "shouldn't be lost in these dark times."
I hope this is not official defence page of Pakistan otherwise there is a real security concern if you use morphed pictures just to spread hate across nations. Please put it down.

— Kawalpreet Kaur (@kawalpreetdu) November 18, 2017
The issue of the morphed pic being used by Pakistan Defence Forum was flagged by Shehla Rashid, the former vice president of JNU Students Union, who contended that forum should not use such images in the name of the Kashmir issue.
Please take down this picture immediately, @defencepk. You are using a morphed image of a young girl and putting her life in danger. Dear @TwitterSupport, @Raheelk, @misskaul, please take note. Here's the original picture: pic.twitter.com/jec2GzXnmF

— Shehla Rashid (@Shehla_Rashid) November 18, 2017
Also on Saturday, Pakistan Defence Forum had tweeted that India "had refused to avail the generous offer made by Pakistan to facilitate a meeting" between Kulbhushan Jadhav, the former Indian Navy officer sentenced to death by a Pakistani military court for alleged involvement in espionage, and his wife. 
The reality was that India had accepted the offer and asked for Jadhav's mother to be included in the meeting. Pakistan's Foreign Office spokesman had even acknowledged, in a tweet, that India had sent in a reply to the offer to facilitate the meeting.
Indian Reply to Pakistan's Humanitarian offer for Commander Jadhav received & is being considered

— Dr Mohammad Faisal (@ForeignOfficePk) November 18, 2017
In September this year, Pakistan had to face embarrassment after Maleeha Lodhi, its envoy to the United Nations, had showed the UN General Assembly a photograph of a Palestinian woman, calling her a victim of pellet gun fire in Kashmir.