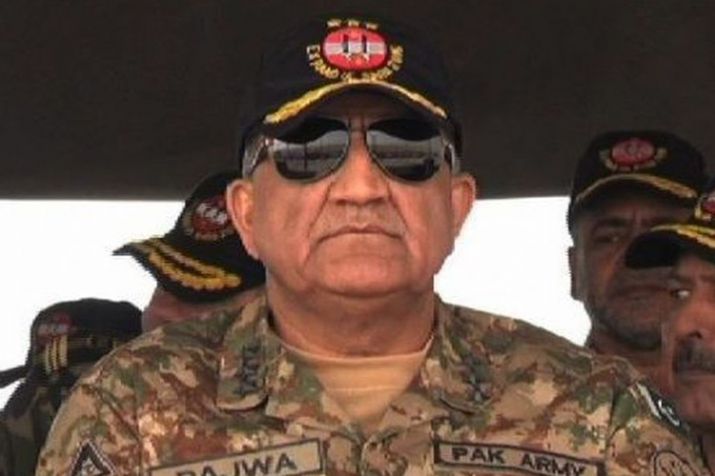 Days after hugging Punjab minister Navjot Singh Sidhu in Islamabad during Imran Khan's swearing-in ceremony, Pakistan Army chief General Qamar Javed Bajwa has spewed venom against India, saying his military was ready to avenge blood shed of its men on the border.
Speaking during Pakistan's 53rd Defence Day held at the General Headquarters (GHQ) in Rawalpindi on Thursday, General Bajwa vowed to give a befitting reply to those casting an 'evil eye' on his country.
"We will avenge the blood flowing on the border," Geo News quoted General Bajwa, as saying in the presence of PM Imran Khan.
"Our armed forces and the entire nation have learned much during their service to Pakistan. Fear and terrorism were thrust upon us. Our homes, schools, places of worship, recreational sites and national institutions were attacked," he said.
"Efforts were made to weaken and divide us from within. But I salute all the citizens of Pakistan and the ones safeguarding our nation who fought remarkably in these difficult times and stood against such elements," the Pakistan Army chief added. 
Cricketer-turned-politician Navjot Singh Sidhu had come under severe criticism in India after he hugged General Bajwa during Imran Khan's oath taking ceremony last month. 
"General Bajwa sahab hugged me and said 'we want peace'. So, let's swim in a blue ocean and shun the red ocean. It's my dream," Sidhu had told reporters after embracing the Pakistan Army chief. 
Sidhu's photo of him seated next to the President of Pakistan Occupied Kashmir (PoK) Masood Khan at the ceremony had also triggered a huge controversy. 
WATCH: Pak Army chief spews venom against India again