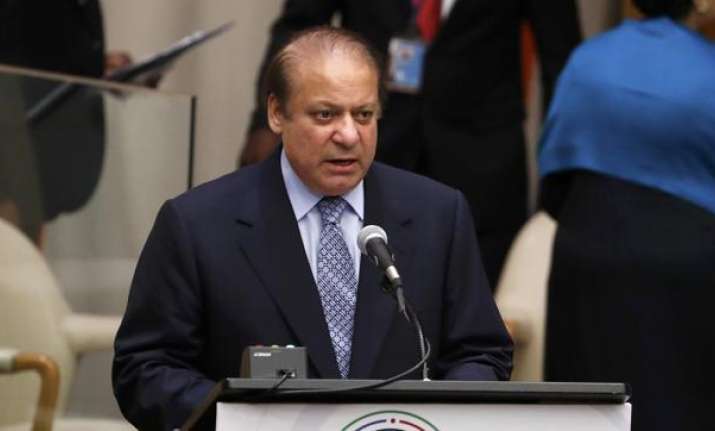 Reacting strongly to Pakistan Prime Minister Nawaz Sharif's remarks at the UN saying claiming his country to be a victim of terrorism, Twitter today lashed out at the unmissable irony.
Nawaz, during the course of his speech also referred to Hizbul commander Burhan Wani as a young leader and not a terrorist.
India today described them as non-factual and full of "threat bluster" and said his glorification of Hizbul commander Burhan Wani at the world forum is an act of "self-incrimination" by Pakistan.
"We just heard a speech full of threat bluster and rising immaturity and complete disregard of facts," Minister of State for External Affairs M J Akbar said at a press conference at the India's permanent mission here after Sharif's address to the UN General Assembly.
He also criticised Sharif for glorifying Wani, who was killed in an encounter with security forces on July 8, and said India "will not succumb to blackmail tactics of the Pakistan Government that seems eager to use terrorism as policy".
"We heard the glorification of a terrorist. Wani is declared commander of Hizbul, widely acknowledged as a terror group. It is shocking that a leader of a nation can glorify a self-advertised terrorist at such a forum. This is self incrimination by Pakistan PM," Akbar said.
Here are some tweets expressing their thoughts:
Nawaz Sharif says Burhan Wani was a young leader. Now he will say ISIS is a spiritual organisation & deserves a Nobel Peace Prize

— Ra_Bies (@Ra_Bies) September 21, 2016
"Nawaz bhai tum chhodte raho, hum lapet rahe hain.." #UNGA pic.twitter.com/Zs9iq7XDGb

— The-Lying-Lama (@KyaUkhaadLega) September 22, 2016
नवाज़ शरीफ़ UN में लम्बी लम्बी छोड़ते गए, और उनके जेनरल हवा में ढूँढते रहे। pic.twitter.com/ztcMMNRxke

— Atulya Mahajan (@amreekandesi) September 22, 2016
Nawaz Sharif's speech in #UNGA is basically an extended English version of 'allah ke naam par kuch de de re baba'.

— Rafale Gandhi (@RoflGandhi_) September 21, 2016