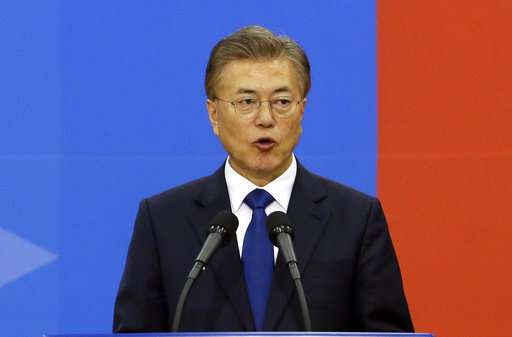 Newly elected South Korean President Moon Jae-in today said that he was open to visiting rival North Korea under the right conditions.
Moon Jae-in added that he is willing to visit North Korea to discuss Pyongyang's aggressive pursuit of nuclear-tipped missiles.
Moon's softer stance on North Korea could create friction with Washington, which has swung from threats of military action to hints of dialogue as it seeks to formulate a policy under President Donald Trump.
Moon, speaking during his oath of office as the first liberal leader in a decade, also said he'll "sincerely negotiate" with the United States, Seoul's top ally, and China, South Korea's top trading partner, over the contentious deployment of an advanced U.S. missile-defense system in southern South Korea.
The system has angered Beijing, which says its powerful radars allow Washington to spy on its own military operations.
In a speech at the National Assembly hours after being declared the winner of Tuesday's election, Moon pledged to work for peace on the Korean Peninsula amid growing worry over the North's expanding nuclear weapons and missiles programme.
"I will resolve the issue of the national security crisis as quickly as possible. I will do my best in all directions for peace on the Korean Peninsula. If needed, I will fly to Washington right away. I will visit Beijing and Tokyo, and if it becomes possible, I will also go to Pyongyang," Moon said.
(With AP inputs)