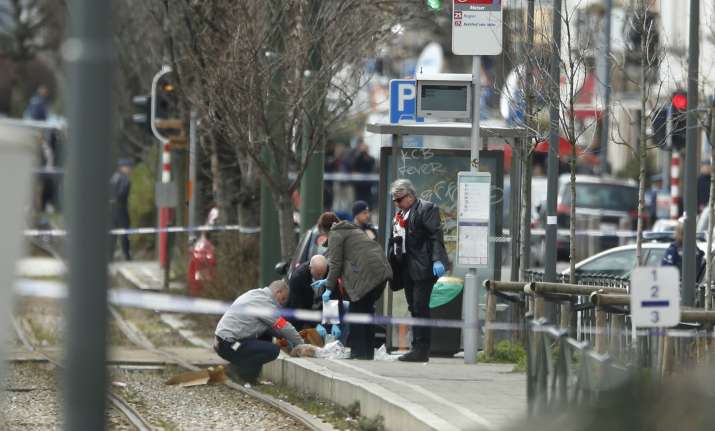 Brussels: One suspect has been arrested in new anti-terror raids launched by the security personnel in the aftermath of the deadly attacks that claimed the lives of at least 34 people and left over 350 injured. Armed police earlier launched a major new raid in Brussels in the wake of the suicide attacks, in the Schaerbeek area of the capital.
Belgian state broadcaster RTBF says a large police raid in Brussels is over and one person carrying a bag of explosives material has been wounded and arrested. The operation comes a day after six suspects were arrested over the carnage.
An explosion was heard at the start of the operation, Belga news agency reported, while the RTBF broadcaster said a man had been "neutralised",
A resident of the cordoned-off street in the city's Schaerbeek district, veterinary surgeon Marie-Pierre Bouvez, told The Associated Press the area remains blocked off but heavily armed officers involved in the Friday operation have gone. Police still shouted at her to stay in her office, however.
During a series of raids in Schaerbeek on Tuesday night police found 15 kilos of high explosive, bomb-making chemicals and an Islamic State group flag.
RTBF quoted Schaerbeek district mayor Bernard Clerfayt as saying the arrested person has been linked to the attacks in Brussels this week and an arrest in France.
Belgian investigators collected evidence from a public transport platform in the Schaerbeek neighbourhood of Brussels on Friday, where a bomb disposal unit was deployed earlier.
The mayor of the Brussels district confirmed that the large police raid under way in Schaerbeek was linked to the investigation into this week's Brussels suicide bombings and a new arrest in the Paris area.
State broadcaster RTBF quoted mayor Bernard Clerfayt as saying one person has been "neutralised" in the operation Friday in his Schaerbeek district.
He did not say whether that meant the person was arrested or wounded.
(With AP inputs)