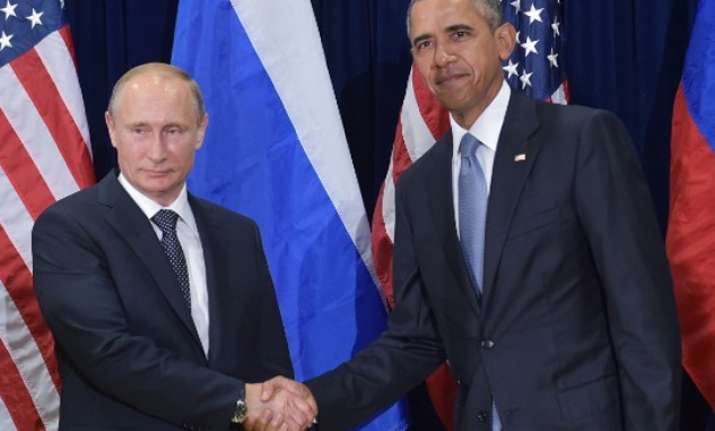 Washington: US President Barack Obama and his Russian counterpart Vladimir Putin have discussed Russia's planned military drawdown from Syria and "next steps" to fully implement the cessation of hostilities in the war-ravaged country, the White House said today.
"They discussed President Putin's announcement of a partial withdrawal of Russian forces from Syria and next steps required to fully implement the cessation of hostilities with the goal of advancing the political negotiations on resolution of the conflict," the White House said in a statement after a phone call between the two leaders.
The two leaders spoke shortly after Putin announced the partial withdrawal from Syria. For nearly six months, Russia has mounted an air campaign backing up the Syria President Bashar Assad's battle against opposition forces.
Obama and Putin discussed progress on the implementation of the nationwide cessation of hostilities between the Syrian regime and its allies on the one hand and the armed opposition on the other.
According to the White House, Obama welcomed the much-needed reduction in violence since the beginning of the cessation, but stressed that continuing offensive actions by Syrian regime forces risk undermining both the cessation of hostilities and the UN-led political process.
"The President also noted some progress on humanitarian assistance efforts in Syria but emphasised the need for regime forces to allow unimpeded access for humanitarian assistance delivery to the agreed-upon locations...," the statement said.
Obama underscored that a political transition is required to end the violence in Syria, it said. Earlier the State Department Spokesman John Kirby said the US has seen a change in Russian military activity and Russian air operations since the cessation.
"Just mathematically, it's beyond dispute that they have made an effort to abide by the cessation of hostilities. In this period of the last two weeks, we have seen them take some strikes against Daesh (ISIS) targets," he said.
"We have also seen and continue to see allegations and claims of violations of the cessation, predominantly against the regime," he said in response to a question.