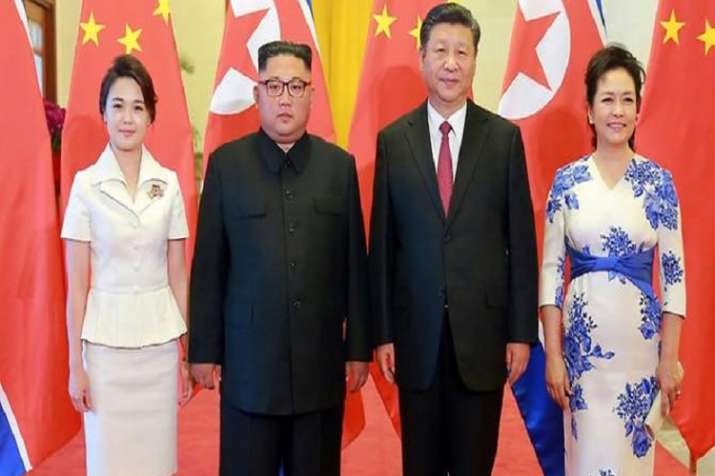 North Korean leader Kim Jong Un wrapped up his third visit to China this year on Wednesday, declaring Pyongyang's unstinting "friendship" with Beijing in a show of loyalty to Beijing  following a landmark summit with US President Donald Trump.
The two-day visit was designed to reassure Beijing that Pyongyang will not neglect its interests as Trump and Kim move into uncharted diplomatic terrain.
There was no official word on Kim's activities on Wednesday, although South Korea's Yonhap news agency said his motorcade was seen at the Chinese Academy of Agricultural Sciences in Beijing. China has pressed North Korea to adopt economic reforms and has touted the prospects of increased trade and investment if Pyongyang makes progress in talks on abandoning its nuclear weapons and long-range missile programs. 
That could allow the lifting of U.N. Security Council economic sanctions that have brought about a plunge in the North's foreign trade, although the U.S. insists easing of sanctions can only come after Pyongyang shows it has ended its nuclear programs. The U.S. says China is in agreement on that point, although Chinese officials have repeatedly stated that sanctions should not be considered an end to their own. 
Earlier during his meeting with Xi Tuesday, Kim thanked China for "positive and sincere support and good help for the successful" summit with Trump.
The North Korean leader, who was greeted by a military honour guard and cheering children at the Great Hall of the People on Tuesday, said he valued the "recently strengthened strategic cooperation" between the two countries.
"He expressed the determination and will to further develop the closer relations of friendship, unity and cooperation between the two parties and the two peoples of the DPRK and China".
Kim also invoked the "prospect for the denuclearisation of the Korean Peninsula" following his meeting with Trump.
For his part, Xi told Kim that China "speaks highly" of his summit with Trump and he urged Washington and Pyongyang to implement their agreement struck in Singapore.
The Chinese leader vowed that Beijing would continue to play a "constructive role" in the nuclear diplomacy.
Kim's visit  to China came at a crucial time when US and China are engaged in a grueling trade war with the two countries already announcing tariffs up to USD 50 billion each while Trump is threatening more sanctions. For its part, China has been warning of strong retaliation.