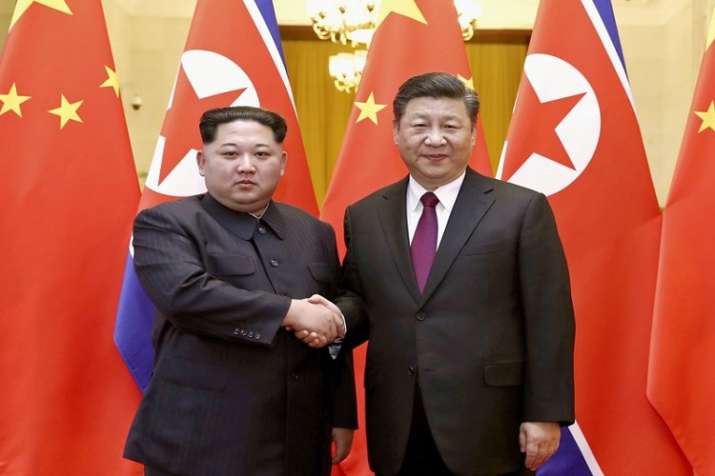 North Korean leader Kim Jong Un and Chinese President Xi Jinping met in Beijing Tuesday for their first face-to-face talks since Kim's historic summit with US President Donald Trump in Singapore on June 12.
The two leaders held a bilateral meeting after a welcoming ceremony for the North Korean leader, which included a crowd of jubilant children jumping up and down and waving Chinese flags.
At their third meeting in as many months, Xi lavished praise on Kim for his effective handling of the US meeting.
Xi said he was very pleased both with the results of Kim's Singapore talks as well as North Korea's future goal of economic development.
The two men agreed they wanted to further deepen the already-close ties between Pyongyang and Beijing in the months ahead.
After their talks, the two leaders then joined their wives for a banquet hosted in Kim's honour.
China's Foreign Ministry had announced Kim's visit to the Chinese capital earlier on Tuesday but hadn't provided any details of his schedule or when he would meet Xi.
Unlike his two visits which were shrouded in secrecy until their completion, China announced the visit just as the North Korean dictator landed in Beijing. 
"Kim Jong-un, chairman of the Workers' Party of Korea and Chairman of the State Affairs Commission of the Democratic People's Republic of Korea (DPRK) visits China from June 19 to 20," Xinhua said. 
Xi held a welcoming ceremony for Kim at the Great Hall of the People. The two leaders also inspected the guard of honour. 
"They agreed to safeguard, consolidate and develop China-DPRK relations, and jointly push forward the sound momentum of peace and stability of the Korean Peninsula to make a positive contribution to safeguarding world and regional peace, stability, prosperity and development," the agency said. 
Kim praised China's "important role in protecting the Korean Peninsula's peace and stability," state-run CCTV said. 
North Korea "hopes to work with China and other concerned parties to promote and establish a solid, long-lasting peace mechanism on the Korean Peninsula and make joint efforts to achieve a lasting peace on the peninsula," Kim said. 
On his part, Xi said that he "wants North Korea and the US to carry out the results of their leadership summit" in Singapore, the report said. 
Chinese foreign ministry spokesman Geng Shuang parried several questions on Kim's visit and its purpose saying details will be released in a timely manner. 
Kim is visiting China and there is a reason for this, he said. 
As to why news of the visit was released at this point, he said relevant information will be released according to the specific situation. 
Geng was not forthcoming when asked whether China will join Russia in calling for lifting of UN sanctions against North Korea in the light of the Singapore summit. 
"China stands against the unilateral sanctions outside the UNSC. This position is very clear. We believe that sanctions itself is not an end and all parties should support and coordinate with the current diplomatic efforts and dialogue to work hard for denuclearisation and political settlement of the Korean peninsula issue," he said. 
The UN Security Council imposed a series of economic sanctions against North Korea after it conducted its first nuclear test in 2006, crippling Pyongyang's economy. 
Since he took over, Trump piled pressure on China to stringently implement the UN sanctions which many believe led to Kim agreeing to scale down his nuclear programme leading up to the summit with Trump on June 12. 
While announcing the halt of South Korean and US military exercises, Trump has been maintaining that the sanctions will remain. 
Despite reports of differences, China remains a close ally of North Korea. 
Officials here say his visit was expected to crystallise the next course of action by him to announce the denuclearisation process and further steps on the Korean peninsula. 
Trump in the past has said Kim has changed his mind after his talks with Xi.
 
Kim's visit this time here is taking place amid escalating trade tensions between the US and China with the two countries already announcing tariffs up to USD 50 billion each while Trump is threatening more sanctions. For its part, China has been warning of strong retaliation.