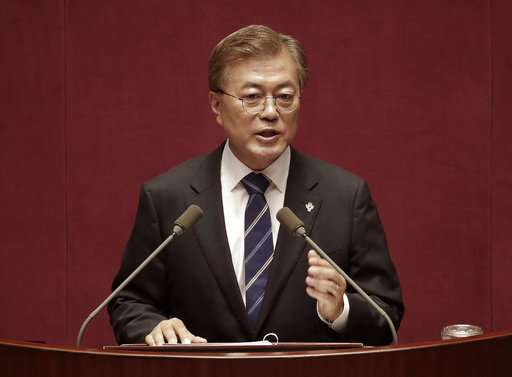 Criticising South Korean president Moon Jae-in for surrendering to US pressure and maintaining a hard-line policy toward Pyongyang, North Korea on Tuesday warned him of potential "brain-washing" efforts by President Donald Trump during their upcoming summit in Washington.
"The US has buckled down to taming the South Korean authorities in an undisguised manner," Xinhua quoted Korean Central News Agency as saying.
"What matters is that the present chief executive of South Korea (Moon), who caught the interest of the public for his remarks that 'he would always say no to the US,' has now gone servile to the US," said the commentary.
The US has engaged in a "cynical ploy" against moderate governments in Seoul in the past to pressure them into accepting U.S. policy and maintaining an alliance with Washington, it said.
"The US has tamed the democratic forces to keep pace with it with utmost vigilance whenever they rose to power in South Korea," said the commentary.
North Korea has urged Moon to revive the reconciliation process in accordance with two joint declarations signed by leaders of the two sides in early 2002.
Pyongyang also urged Seoul to dismantle the Terminal High Altitude Area Defense (THAAD) system and get rid of pro-US forces in the new government.
Last month, South Korea's presidential Blue House said that South Korea and the US had agreed to hold a summit meeting in late June in Washington.
(With IANS inputs)