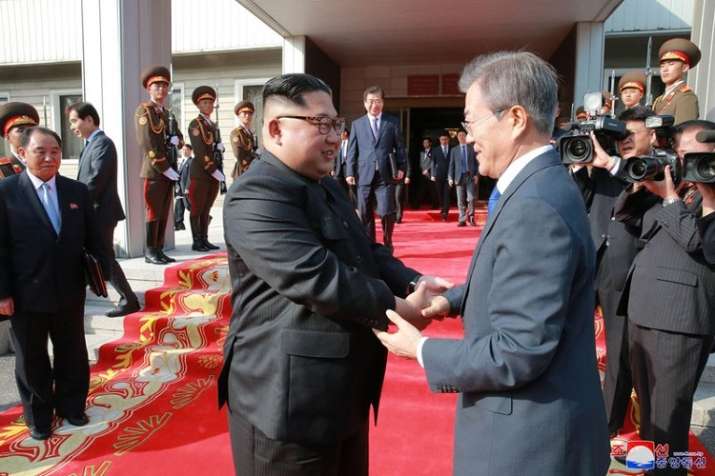 North Korean leader Kim Jong Un reaffirmed his commitment to 'complete denuclearisation' of the Korean peninsula and to a planned meeting with U.S. President Donald Trump, South Korean President Moon Jae-in said on Sunday.
Addressing the reporters, Moon Jae-in said that Kim "again made clear his commitment to a complete denuclearisation of the Korean Peninsula," and told the South Korean leader that he's willing to cooperate to end confrontation and work toward peace for the sake of the successful North Korea-U.S. summit. Moon said he told Kim that Trump has a "firm resolve" to end hostile relations with North Korea and initiate economic cooperation if Kim implements 'complete denuclearisation'.
"What Kim is unclear about is that he has concerns about whether his country can surely trust the United States over its promise to end hostile relations with North Korea and provide a security guarantee if they do denuclearization," Moon said. 
"During the South Korea-U.S. summit, President Trump said the U.S. is willing to clearly put an end to hostile relations between the U.S. and North Korea and help the North achieve economic prosperity if North Korea conducts denuclearisation", he added.
Moon said North Korea and the United States will soon start working-level talks to prepare for the Kim-Trump summit. He said he expects the talks to go smoothly because Pyongyang and Washington both know what they want from each other.
During the summit held on May 26, both the leaders agreed to positively cooperate with each other as ever to improve North Korea-US relations and establish a mechanism for permanent and durable peace. They agreed to have their top officials meet again June 1. Moon said military generals and Red Cross officials from the Koreas will also meet separately to discuss how to ease military tensions and resume reunions of families separated by the 1950-53 Korean War.
Saturday's Korean summit came hours after South Korea expressed relief over revived talks for a Trump-Kim meeting.
Earlier on Sunday Kim Jong Un had expressed his fixed will on the historic North Korea-U.S. summit talks. 
Meanwhile US President Donald Trump on Sunday said that plans for a landmark summit with North Korea's Kim Jong Un are moving "very nicely". He added that the talks would be a historic opportunity to end decades of confrontation.
The latest conciliatory declaration by Trump capped a turbulent few days of diplomatic brinkmanship on the Korean Peninsula that had heightened the tensions in the region.
Trump had rattled the region on Thursday by cancelling a planned June 12 meeting with Kim in Singapore, citing "open hostility" from Pyongyang.